Smart Card Based Driving License in Uttar Pradesh
Anshu Rohatgi, Uttar Pradesh
anshu[dot]rohatgi[at]nic[dot]in
|
Nov 27, 2012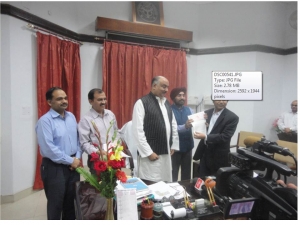 A MoU (Memorandum of Understanding) was signed between State Transport Department, Government of Uttar Pradesh, National Informatics Centre (NIC) and NICSI (National Informatics Centre Services Inc.) on 8th November 2012 for implementation of project 'Sarathi' in the state that entails issuance of electronic chip based Driving Licences to the citizens.  The tripartite agreement was signed in the presence of state transport minister Shri Raja Mahendra Aridaman Singh. Shri B.S Bhullar, IAS & Principal Secretary, State Transport Department, Shri Rajesh Bahadur MD, NICSI & Dr. Y K Singh, Technical Director, NIC signed the MoU. Speaking on the occasion Dr. Y.K Singh informed the gathering that the preparation work is already in progress and very soon the smart card based DLs will be issued to the public.
The smart card based DL system will not only simplify the process of getting a driving license it will also help in eliminating middlemen from the process and reduce the chances of bogus Driving Licenses. It will be mandatory for all the applicants to be physically present in the RTO office after implementation of the new system, as his thumb impression and signature will be taken on the biometric device and electronic pad respectively. The new DL will come in tamper proof plastic cards embedded with a microprocessor chip that will store the digital photograph, biometric thumb impression, digital signature and other important details of the applicant. The information will also be updated in the national register and state register through a backend process required by Ministry of Road Transport and Highways.
The new DL will be available to the public from the new year (2013) as the Issuance of smart card-based driving licenses will commence in 10 districts including Lucknow, Kanpur, Ghaziabad, Agra, Meerut, Jhansi, Allahabad, Varanasi, Aligarh and Barabanki from first quarter of 2013. The remaining districts will start issuing the new DLs from the second quarter of 2013. A token amount of Rs.250/-has been fixed as the fee for smart card based driving license.