Mid-Day Meal Application of SME Dept., Govt. of Odisha bagged Skoch Smart Governance Platinum Award- 2017
A. K. Hota, Odisha
ak[dot]hota[at]nic[dot]in
|
Sep 18, 2017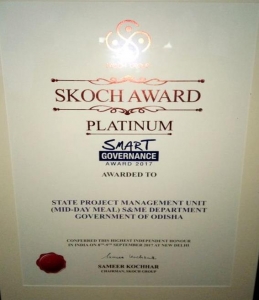 The SMS based monitoring system of Mid-Day Meal Programme of School and Mass Education Dept., Govt. of Odisha (URL : mdmodishasms.nic.in) developed by NIC Odisha State Centre  has brought the glory to the state in the field of Information Technology (IT) by receiving the Skoch Smart Governance Awards (Platinum Award)-2017.
The awards were conferred in a mega ceremony and conference at Constitution club of India, New Delhi on 8th - 9th September 2017. The Platinum Award for MDM programme was received by Sri Gangadhar Sahoo, State Nodal Officer, MDM, Odisha along with other senior Officials of SME Dept.
This application was developed by NIC to monitor the Mid-Day Meal program through SMS on real time basis. It collects information on Mid-Day Meal consumption on a daily real time basis, IFA tablet consumption on a weekly basis and Cook-cum-Helper Absentees report on a monthly basis. The monitoring system is also available through Android mobile app (MDM Odisha) which can be easily downloaded from Google Play store.
The web and mobile application was developed by the team comprising of Dr R N Behera, Sr. Technical Director as Team Leader, Sri A. K. Pattanayak, TD and Sri B. L. Gupta, SA as Team Members under the guidance of Sri P. K. Pramanik, DDG & SIO, Odisha.