Honourable Prime Minister of India visits Shimla-Technical Support by NIC HP at Two Locations
Ajay Singh Chahal, Himachal Pradesh
ajay[dot]chahal[at]nic[dot]in
|
Apr 29, 2017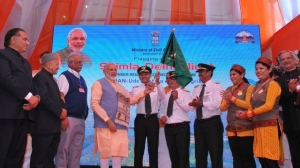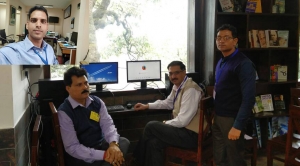 Sh. Narendra Modi, Hon'ble Prime Minister of India, visited Shimla on 27th April 2017 and inaugurated the first flight under UDAN scheme at Shimla. Under the Regional Connectivity Scheme 'UDAN', (Ude Desh ka Aam Nagrik),' the Government will provide air connectivity to the un-served airports across the nation. The flight charges will be at subsidised rate of Rs. 2,500 for per hour of flights. The scheme has been launched under the National Civil Aviation Policy (NCAP) which was released in June, 2016. After the inauguration ceremony, the Hon'ble Prime Minister addressed the gathering. The Hon'ble Union Minister for Health, Hon'ble Governor, Chief Minister, Minister for Technical Education, Himachal Pradesh were present during the inaugural ceremony. The Hon'ble Prime Minister also laid the foundation stone of the first Hydro-engineering college being set up at Bilaspur in the State.
During the visit of the Hon'ble PM, the National Informatics Centre, Himachal Pradesh provided the necessary technical support related to setting up of computer systems, Wireless connectivity, shredding machines, printers at locations of the Jubbarhatti Airport and the Ridge, Shimla. The inauguration at remote locations was done through Doordarshan live feed, which was webcast live on the http://webcast.gov.in portal too.
Sh. Shailender Kaushal, Network Administrator coordinated the entire support operations during the two days. Two teams led by Sh. Pankaj Gupta, DIO Shimla and Sh. C.L. Kashyap, Scientist-B, comprising of Sh. Deepak Kumar, ADIO, Shimla, Sh. Rajat, Network FMS, Sh. Sushant Kumar, Security Engineer, Sh. Bhavneesh Dutt, Network FMS carried out the rehearsals on 26th April. On 27th April, during the visit, both the teams were present at the locations for about 5 hours each. The General Administration Department, under the leadership of Sh. Ashwani Sharma, Special Secretary (GAD), provided the ICT equipment, including computers, vehicle, connectivity, telephones and other logistic support.