State Coordinator, J&K State Chaired Review Meeting
Jit Raj, Jammu and Kashmir
jit[dot]raj[at]nic[dot]in
|
Jan 27, 2017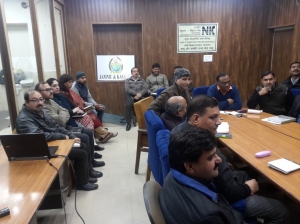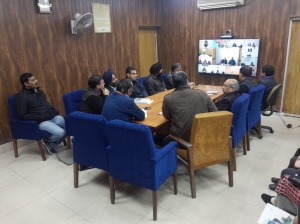 A review meeting of NIC J&K State Centre and NIC District Centres held under the Chairmanship of J&K State Coordinator Shri A.K. Aggarwal, STD. on 11.01.2017 at NIC J&K State Centre Civil Secretariat Jammu.
The agenda of the meeting was as follows:
1.       To review State Level Projects
2.       Central Projects – AEBAS, VAHAN/ SARATHI, E-Office etc.
3.       Central Directives – Digital/Cashless Payment, Digital India, Swachch Bharat, Any other
4.       Networking - Networking Operations, Video Conferencing, Cyber Security etc.
5.       Administrative Issues – Leave / LTC, GPF, NOCs, Pending Bills, Any other issues
6.       Issues pertaining to infrastructure (Gas Heater/Heat Convector, Batteries, UPS, furniture etc)
The Officers from NIC State Unit, High Court Jammu participated in the meeting in person and DIOs of the 20 NIC Districts Centres(excluding Kargil & Leh) participated through the Video Conferencing.
The review meeting started with the welcome address by the State Coordinator and impressed upon all the participants to work with zeal and dedication to meet the aspiration of the Government and District Administration and also maintain the proper liaison with them. Also asked all the participants to follow the office timings and  mark the attendance on regular basis through AEBAS.
State Coordinator reviewed the State and Centre Projects running in the Districts and some of DIOs have  doubts/small issues relating to the State Projects like Treasuries, CPIS, Transport which were resolved by the respective Head of Sector present during the meeting itself.
State Coordinator also asked the DIOs to share the applications developed by them locally among all the DIOs to avoid duplication of efforts by the others. The meeting ended with a vote of thanks to the chair.