NIC Rajasthan 25 Years Logo Released at NCEG
Chandan Sen, Rajasthan
chandan[dot]sen[at]nic[dot]in
|
Mar 7, 2013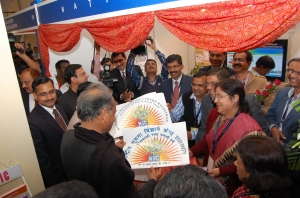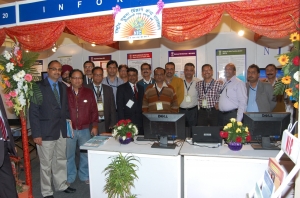 National Informatics  Centre
SHINES  AT THE
16th NATIONAL CONFERENCE ON E-GOVERNANCE (NCEG)
(11th-12th Feb. 2013)
AT JAIPUR RAJASTHAN
The 16th National Conference on E-Governance was held at  Birla Auditorium  from the 11th-12th Feb. 2013 at pink city Jaipur.  The 16th National Conference on e- Governance jointly organised by the Department of Administrative Reforms and Public Grievances , Department of Electronics and Information Technology  Government of India and the   Department of Information Technology & Communication, Government of Rajasthan based on the theme "Towards an Open Government" , explored how use of ICT has transformed governance from the perspective of the beneficiaries of the services. It was an attempt at a reality check to ascertain the outcome of the services rendered and whether it has achieved the intended objectives of transparent, effective, responsive and accountable system of governance.
On the occasion NIC displayed an elaborate stall on the occasion showcasing various national and state based ICT projects like : NeSD , Cooperative Core Banking, Dial.Gov, IVFRT , MCTS, National GIS Services , Fertilizers  and SSA Web Portal, School GIS, Vahan – Sarathi, EGRAM,  LRC, IFMS, PCTS/MMJRK, PCPNDT, IWMS, GPNIC, NOFN, OASYS etc from Rajasthan . The hon'ble central minister for state Sh. Narayansamy  and CM Rajasthan Sh. Ashok Gehlot, CS Rajasthan Sh. C.K. Mathew and other dignitaries visited the NIC stall and were highly impressed with the ICT initiatives of NIC . The central minister and CM Rajasthan also released  the specially designed logo of  "GLORIOUS TWENTY FIVE YEARS of NIC RAJASTHAN " on the occasion. SIO Rajasthan Indu Gupta presented  the set of  project brochures to the dignitaries on the occasion and apprised them of the ICT developments  of NIC". The ubiquitous presence of NIC was seen with various line department in other stalls as well .
The event was attended by the officer's from Rajasthan state unit Jaipur  and  other district units . Senior NIC officials from outside  the state like Mrs. Shefali Dash DDG, Ms Vandana Sharma DDG, Dr. Ambrish Kumar DDG, CLM Reddy DDG, SIO Himachal  , SIO MP , SIO Tamil Nadu, IPS Sethi, Mrs. Suchitra Pyarelal and others  attended the two day ICT deliberations which was a grand success.