Honourable Chief Minister Himachal Pradesh Interacts with Citizen Over NIC VC during Launch of JAN MANCH program
Sandeep Sood, Himachal Pradesh
sood[dot]sandeep[at]nic[dot]in
|
Jun 5, 2018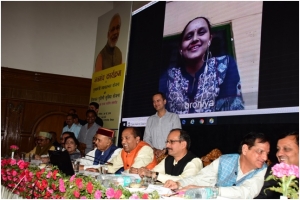 Sh. Jai Ram Thakur, Hon'ble Chief Minister of Himachal Pradesh launched a new program "Jan-Manch" on 26th May 2018. The program aims to provide various services to common citizen at the field level by organising monthly camps in remote areas. The officers of concerned District from various departments will be available to the public on the defined venue and day in this camp. One of the ministers will also be attending the camp. Common citizen can avail services like obtaining various certificates, Registration of Deeds, Mutation attestation, completion of  documents to avail services and they can also submit their Grievances/ Demands for speedy redressal on this occasion. The first Jan-Manch is scheduled to be oranised on 3rd June 2018 across the state covering one Assembly Constituency each in the 12 Districts.
Hon'ble Chief Minister interacted with few applicants who had lodged complaints in eSamadhan (online Redressal of Public Grievances System) and their complaints have been disposed. These were selected randomly by the administration.  The Hon'ble Chief Minister wanted to have first hand feedback from the applicants to know the quality of disposal in eSamadhan. The CM office wanted that participants should interact with CM from their respective location instead of visiting NIC studios. The objective was achieved by using VIDYO portal, desktop based Video conferencing system of NIC, all the applicants were guided to install Vidyo Desktop app on their smart phones to participate. The interaction was successful and Chief Minister interacted with four out of total 10 connected participants.
Hon'ble Chief Minister also launched two schemes namely; Mukhya Mantri Swavlambhan Yojna and Himachal Grihni Suvidha Yojna on the occasion. The other dignitaries present on the dais were his cabinet colleagues, MPs from Hamirpur, Shimla and Mandi constituency, Ex Chief Minister, Himachal Pradesh. Majority of the MLAs also attended the launch. Among other invited guests also includes the PRI representatives.
The Chief Secretary, Himachal Pradesh and Administrative Secretaries, HoDs of departments and Deputy Commissioners of also attended the launch function. Sh. R.N. Batta gave a brief presentation on JANMANCH program. A small video clip prepared by NIC Himachal Pradesh, giving an introduction of JANMANCH program, was also played on the occasion. NIC Himachal Pradesh is also developing a software to monitor the activities of JANMANCH program which is likely to be held on first Sunday of every month at 12 places across the state covering 12 Districts and 12 Assembly Constituencies.