Open Group Award of Distinction, 2018 for Public Service Commission Enterprise Architecture Framework Prepared By NIC
Sandeep Sood, Himachal Pradesh
sood[dot]sandeep[at]nic[dot]in
|
Mar 21, 2018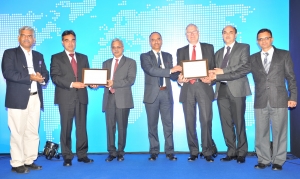 The Open Group Expert Panel has conferred the Award of Distinction on HP Public Service Commission and NIC Himachal Pradesh for designing the  Public Service Commission Enterprise Architecture Framework. The award was presented to the NIC and HP PSC teams on 22nd February 2018 in the Open Group Conference at Bengluru. Sh. J. Satyanarayan, and Sh. James presented the awards to Sh. D.C. Misra, DDG, Sh. Ajay Singh Chahal, SIO NIC HP, Sh. Sanjay Sharma, TD and Project Head, Sh. Sanjay Kumar, TD and Sh. Manoj Tomar, Additional Secretary, HP PSC. The other members of the team included Sh. IPS Sethi, Sr. TD and Sh. Sandeep Kumar, TD.
The Open Group Awards for Innovation and Excellence 2018 received high quality nominations from large number of Governments, Industries and academia from Asia, Australia, Africa and Middle East besides from various States of India.
The PSC EAF will be the guiding document for designing and developing the standard ICT solution for the Public Service Commissions with Himachal Pradesh being the pilot State for testing and implementation. The PSC EAF has been developed after numerous rounds of discussion in person with the different PSC officials and video conference based discussions with all 29 Public Service Commission officials of the country. The document will serve as the reference point in designing the State specific enterprise architecture of every Commission. The ICT solution will be configurable and easy to adopt for all desiring PSCs. A number of PSCs have already expressed their interest in implementing the solution. The NIC Himachal Pradesh is coordinating the activity under guidance from the NIC EAF Division in developing the software solution.