His Excellency Governor, Odisha chaired the Think Tank meeting on - Digital Citizenship and Digital Leadership for building Digital India
A. K. Hota, Odisha
ak[dot]hota[at]nic[dot]in
|
Sep 20, 2017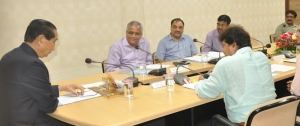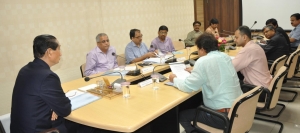 The Think Tank meeting was organized at Governor House, Bhubaneswar, Odisha to deliberate on "Digital Citizenship and Digital Leadership for building Digital India". Experts from Infosys, TCS, NIC, IIIT, ICICI Bank, Axis Bank, etc. had a brainstorming session on various aspects of achieving Digital Citizenship in Odisha.
Dr. A. K. Hota, STD and Sri Niladri Bihanty Mohanty, Scientist-C represented NIC, Odisha. Sri Kamala Kanta Barik, Scientist-D, Nodal Officer for ICT support to Governor House also joined the meet.
His Excellency Governor, Odisha, Dr. S. C. Jamir initiated the discussion.   He expressed his concerns about full electronic participation in society, delivery of services at last mile, electronic buying and selling of goods and in the process reaching out to each and every citizen for ultimate growth in every sphere of life. He wished from panelists to share implementable ideas / concepts for digital inclusion.
Addressing on the occasion Dr. A K Hota presented briefly on the three Vision areas and Nine Pillars of Digital India and contributions of NIC thereof. He focused on nine themes of Digital Citizenship i.e. Digital Access, Digital Commerce, Digital Communication, Digital Literacy, Digital Etiquette, Digital Law, Digital Rights & Responsibilities, Digital Health & Wellness, Digital Security etc.
Other delegates discussed on need of Data Analytics, various methods available for Direct Benefit Transfer, Digital Payment,  Digital Entrepreneurship development etc.
Presentations were followed by interactions moderated by Shri C. J. Venugopal, I.A.S., Principal Secretary to the Governor.
Participating in the interaction, Shri Niladri Bihari Mohanty highlighted Digital profile of India and challenges being faced for last mile connectivity. He added that Citizen need to be made aware about positive digital stamping by positive digital footprint and monitoring digital shadows.
Principal Secretary offered Vote of Thanks for the meaningful interactions by the participants.