Training on BHUNAKSHA 3.0 at NIC Balangir District, Odisha
A. K. Hota, Odisha
ak[dot]hota[at]nic[dot]in
|
Aug 3, 2017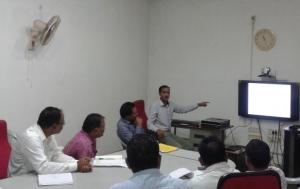 Training on Bhunaksha was organised at NIC, Balangir for all 14 Tahasils of Balangir District, Sub-division wise.  The schedule was as follows:
05.07.2017 & 06.07.2017  -  Balangir Sub-Division     (6 Tahasils)
13.07.2017 & 14.07.2017  -  Patnagarh Sub-Division  (3 Tahasils)
19.07.2017 & 20.07.2017  -  Titilagarh Sub-Division   (5 Tahasils)
Sub-Division wise Tahasils were allotted two days each for Tahasildar / Addl Tahasildar. The Training was conducted under the Chairmanship of Sri Laxmikant Pyarelal Pradhan, OAS (S), Addl. District Magistrate, Balangir. All the Tahasils were instructed to bring the Desktop with Windows 7 /8/ 10 on the date of training and Bhunaksha was installed so as to enable them to impart training at Tahasils. The Training was imparted by Shri Jogeswar Bhoi, Addl. Tahasildar, Bangomunda and Sri CVK Maruti Rao, DIO, NIC, Balangir.
Total 22 officials were trained in the process. Photographs of the Training and Feedback from the participants after successful completion of the Training are enclosed.
Feedback from the Participans
"Training was informative and educative; we could clear all our doubts" - Smt. Subhasmita Mishra, ORS, Addl. Tahasildar, Patnagarh
"Training imparted by DIO, NIC and Sri J. Bhoi, Addl. Tahasildar, Bangomunda, Resources Person was more successful and educable. It will help in future" - Sri Kalakrushan Pradhan, Addl. Tahasildar, Belpada & I/c Tahasildar, Belpada
"The training imparted by DIO, Balangir and Sri J. Bhoi, Addl. Tahasildar is exhaustive, convincing. There is no doubt in my mind, only practise will make me perfect. I would be able to impart training to my sub-ordinates successfully." - Sri Himansu Kumar Hota, Addl. Tahasildar, Khaprakhol
"Training Programme of Bhunaksa is effective.  Training given by Sri Bhoi and DIO is easy to understand." -Sri Ashok Kumar Rath, Addl. Tahasildar, Saintala
"Training Programme conducted by the NIC, Balangir was nice. This training shall help the Revenue personal on the correction of Map." - Sri Narottam Majhi, Addl. Tahasildar, Kantabanji
 "Training is useful and would fulfil the future programme of Govt. The training is best informative and valuable one." - Sri Jayandra Sethi, Tahasildar, Muribahal
"It is a very good, informative, interactive and useful programme" - Sri Jugal Kishore Biswal, Addl. Tahasildar, Muribahal
"Training is very informative, training method is very lucid and simple to understand"- Sri Debashis Samal, Addl. Tahasildar, Saintala
"The training is very helpful and good" - Sri Subash Chandra Sethia,  Addl. Tahasildar, Kantabanji