Hon Chief Secretary of Maharashtra inaugurated the State Information Commission's second appeal online web application.
Moiz Hussain, Maharashtra
hussain[at]nic[dot]in
|
Aug 1, 2017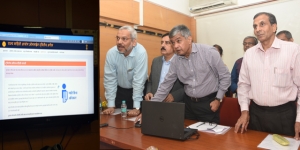 State Information Commission of Maharashtra deals with 2nd Appeal cases pertaining to the applications submitted by the citizens to the various departments of State Government under the Right to information Act..

NIC Maharashtra has provided technical services for design and implementation of an online system to enable the citizens to file their 2nd appeal if they so desire. The URL of application is http://sic.maharashtra.gov.in/siconline.

Hon. Chief Secretary of Maharashtra launched this website on 28th July 2017 at the office of State Information Commissioner Maharashtra State in the presence of State Information Commissioner, Additional Chief Secretary General Administration,State Informatics Officer Maharashtra and other senior officers of NIC and State Government.

Hon. Chief Secretary Maharashtra and Hon.State Information Commissioner appreciated the efforts taken by NIC Maharashtra for successful launch of the web application. SIO Maharashtra assured to provide all technical support for sustaining the application.