Inauguration of Video Conferencing Facility at Nyaya Sanjog, Odisha State Legal Services Authority
A. K. Hota, Odisha
ak[dot]hota[at]nic[dot]in
|
Jul 29, 2017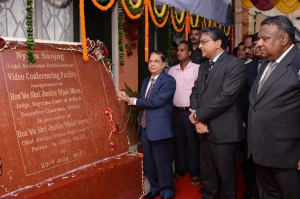 Hon'ble Shri Justice Dipak Misra, Judge, Supreme Court of India & Executive Chairman, NALSA inaugurated VC facility at the Legal Assistance Establishment (Nyaya Sanjog) set up in the office of the Odisha State Legal Services Authority(OSLSA), Cuttack in presence of Hon'ble Chief Justice Shri Vineet Saran, Hon'ble Shri Justice Indrajit Mahanty, Judge, Orissa High Court & Executive Chairman, OSLSA, Hon'ble Judges of Orissa High Court, Addl. DG Prisons, Odisha, Addl. DG of Police (Hqrs), Special Secretary IT, Govt. of Odisha and Officials from NALSA at 10 AM on 23.07.2017. 
Later Hon'ble Shri Justice Dipak Misra, interacted over VC with the Superintendents and inmates of Jails and District Legal Service Authority officials.
25 jails including 'Nari Bandi Niketan' at Sambalpur participated in the programme. This interaction proceeding was also watched live by the participants of the 'sensitization programme'   at Odisha Judicial Academy, Cuttack.
NIC provided 8 mbps NICNET connectivity and provided technical assistance in setting up the VC studio at Nyaya Sanjog, OSLSA, Cuttack at a very short notice. 
Trial runs were held regularly with the Jails by VC Division NIC(HQ),NIC, Bhubaneswar and NIC High Court Cell, Cuttack during the past week including one session Chaired by the Hon'ble Chief Justice, Odisha prior to the event held on 23.07.2017.

Hon'ble Judges appreciated the role of NIC in the successful conduct of the VC session.
The event was widely covered in the media.