Hon. Chief Minister of Maharashtra launching MAHAPAR -Performance Appraisal System developed by NIC.
Moiz Hussain, Maharashtra
hussain[at]nic[dot]in
|
Jul 12, 2017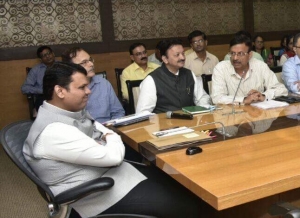 Hon. Chief Minister of Maharashtra launched http://mahapar.maharashtra.gov.in web application at Vidhan Bhawan on 11/07/2017 and appreciated the work of NIC Maharashtra for successful implementation. Additional Chief Secretary(Services),Govt of Maharashtra, have acknowledged the excellent support given by NIC, Maharashtra and NIC HQ, New Delhi and stated that this application software will help State Government in better administration of Annual Performance Appraisal Reporting of officers of State Cadre.