Honourable Governor, Himachal Pradesh Launches the Mobile Application of HP Public Service Commission
Ajay Singh Chahal, Himachal Pradesh
ajay[dot]chahal[at]nic[dot]in
|
Apr 23, 2017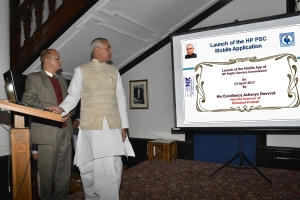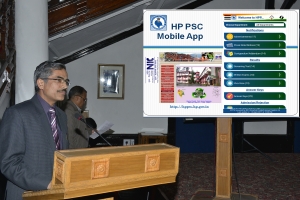 His Excellency, Acharaya Devvrat, Hon'ble Governor of Himachal Pradesh launched the Android based Mobile Application of the HP Public Service Commission on 13th April 2017 at Shimla. The Hon'ble Governor, in his speech, emphasized the importance of new technologies for the younger generation and they must be provided with more such ICT solution in their hands. He said that the Mobile App has special importance in a State like Himachal where road connectivity and postal reach is hampered frequently due to difficult geographic terrain. He also spoke about the importance of 13th April being the start of the new year and, hence, an auspicious  day to launch the mobile App for the job aspirants of the State.
Sh. K.S. Tomar, Chairman, HP Public Service Commission, Members of the Commission, Officers from the Department of IT, NIC and staff of the HP PSC were present during the launch ceremony. Sh. Ajay Singh Chahal, SIO, Sh. Sandeep Sood, Group Head and Sh. Amit Kanojia, Scientific Officer "SB" were present from NIC HP. Sh. K.S. Tomar, Chairman, HP PSC informed the participants that the mobile App marks the start of the prestigious eGovernance Project of the Commission and that it will be replicated in other States too. He informed that the App will be specially helpful to the people living in rural areas and keep them updated about every action being taken by the Public Service Commission.
Sh. Sandeep Sood, HoD of the Centre, gave a presentation on the various features and functionalities present in the Mobile App. The App provides auto-alerts on any updation being done on the website of the Commission and content is categorised based on its type and directly downloadable.
The Mobile App has been developed by the NIC Himachal Pradesh Mobile Application Competency Centre on Android platform.