Digidhan Mela Organised at Shimla on 19-March-2017
Ajay Singh Chahal, Himachal Pradesh
ajay[dot]chahal[at]nic[dot]in
|
Mar 21, 2017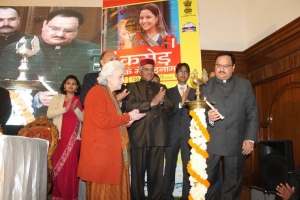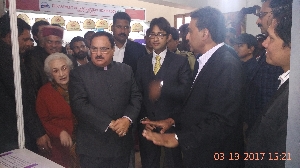 The Digidhan Mela to sensitize and train the citizens on using cashless modes for making various types of payments was held  on 19th March 2017 at Shimla. Honourable Union Health Minister, Sh. J.P. Nadda was the chief guest. Smt. Vidya Stoke, Minister for Information Technology, Himachal Pradesh was guest of honour. Sh. Vinay Thakur, Director, eGoverenance represented the Ministry of Electronics and IT, GoI.
In his address, Sh. J.P. Nadda, the Honourable Union Minister for Health, said that more than 80 percent of the informal economy activities would be brought into the formal economy by digitization and cashless transactions. He informed the participants that 27 crore saving accounts have been opened under Jan-Dhan Yojna, which could be used for development purposes.
Smt. Vidya Stokes, Honourable Minister for IPH, IT, Government of HP, said that the Government was promoting digital transactions in its receipts and payments in a big way, thereby ensuring  the cashless Government transactions.
The Digidhan Mela was organized by the Department of IT, HP Government and the District Administration, Shimla. Sh. Jagdish Chander, Principal Secretary, Information Technology, Mrs. Manasi Sahay Thakur, Director IT and Sh. Rohan Chand Thakur, Deputy Commissioner, Shimla were present. Lots of citizens visited the Mela. The Banks had set up their stalls displaying the POS machines, mini ATM machines on how to best use the banking facilities in cashless modes of payments.
The Department of Information Technology, National Informatics Centre, HP, HP Excise & Taxation Department and CSC SPV had also set up their stalls to educate the citizens. The NIC stall has set up a Presentation with audio/video on LCD TV, with two posters showing Cashless modes of Payments & types of cashless G2C, G2B and G2E services being offered. Himachal Pradesh Government is among the leading States where all Government receipts are online and payments are being made through ECS in bank accounts of the individuals only.
The Honourable Union Minister, Sh. J.P. Nadda visited the NIC HP Stall and interacted with Sh. Ajay SIngh Chahal, State Informatics Officer on the cashless initiatives of the HP Government. Mrs. Vidya Stokes, Minister for IT, HP Government also visited the NIC HP Stall and showed keen interest in going through the pamphlets highlighting cashless initiatives which have been technically supported by NIC.
The NIC stall was set up by Sh. Lalit Kapoor, ASIO, Sh. Pankaj Gupta, DIO, Shimla, Sh. Deepak Kumar, ADIO, Shimla and the activity was coordinated by Sh. Shailender Kaushal, Scientist-C/Network Administrator. The day-long operation of the NIC HP Stall was managed by Sh. Sanjay Sharma, Sh. Jitender Nauni, Sh. Saurabh Thakur, Sh. Sushant Kumar, Sh. Nitish Jassal, Sh. Ashish Sharma, Sh. Naveen, Sh. Balraj.