ServicePlus: Presentation cum Demonstration at Kohima Municipal Council
Novotsono, Nagaland
novotsono[dot]natso[at]nic[dot]in
|
Dec 22, 2016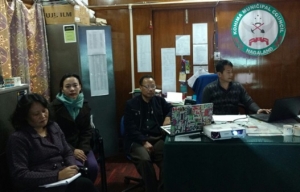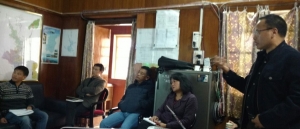 A meeting with the Administrator, KMC and Superintendent, KMC along with other officials from NIC, Nagaland and UD Department, Nagaland was held at the office chamber of the Superintendent of KMC on 19th Dec. 2016.
The meeting started with a presentation on ServicePlus by Sh. Kemvu Elah, PSA and Addl. SIO, NIC Nagaland. Sh. Kovi Meyase (NCS) Administrator, KMC appreciated NIC for the presentation. This was followed by a demonstration by Ms. Novotsono, Sc. B, NIC, Nagaland on the Cess Pool Booking system defined on the demo site for the Guwahati Municipal Corporation. Sh. Zakiekhoto Kiso, Superintendent of KMC gave a presentation on the activities of KMC. Deliberations on usage of ServicePlus for Kohima Municipality followed this and queries raised by KMC were duly addressed by NIC. Sh. Kiso appreciated the features provided by ServicePlus and expressed confidence that it will be instrumental for bringing online the services provided by KMC. On conclusion of the meeting, it was conveyed by the KMC that initially a system for issuance of Trade License, issuance of Building Construction Permit, Residential Certificate and issuance of Permit for conducting Sales Day/Fete Day will be taken within the Kohima Municipality. For this, NIC has requested the department to officially communicate after which NIC will do a system study to gather their requirements.
The meeting concluded with a note of thanks to all concerned.