Odisha Geo-Portal - A G-Governance initiative in Odisha
A. K. Hota, Odisha
ak[dot]hota[at]nic[dot]in
|
Nov 28, 2016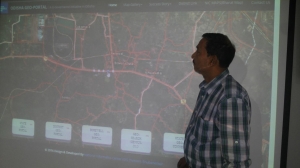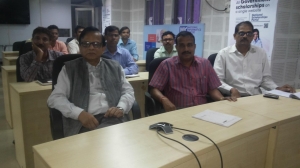 Odisha Geo-Portal (https:// gisodisha.nic.in) was designed and developed by Shri Bijaya Kumar Samal, Scientist-D, GIS Division, NIC, Odisha State Unit, Bhubaneswar. It was inaugurated by Shri P. K. Pramanik, DDG & SIO, Odisha on 19th  November, 2016 in the Conference Hall of NIC.
In this occasion, Shri Pabitrananda Patnaik, Technical Director and Head, Training Division welcomed all the participants and gave a glimpse of the portal followed by SIO's inaugural speech.  All officers of NIC were present. DIOs and DIAs of all the 30 districts participated in the occasion through video conferencing.
In his inaugural speech, SIO emphasized the need of Geo-ICT technology for asset mapping, planning, monitoring and decision making process for sustainable development. He also urged the officers to integrate their applications/ projects with GIS for better monitoring, smart visualization, proper planning and quick decision making for various developmental programmes / schemes/ e-Governance activities. 
Sri Bijaya Kumar Samal, demonstrated and explained various components of the Portal.
He informed that Odisha is one among few states that have developed its own GIS Portal. He explained the salient features of the portal as:
Voluminous & rich Spatial Data (32 layers) composed from multiple spatial datasets e.g. Survey of India, FSI, Satellite Images, RGI etc.
Framework based Service Oriented Architecture (SOA) scalable as per the needs.
Rich Internet Application (RIA) as GIS Web Service using NICMAPS in integration with OGC compliant Global GIS web services
GIS Web Services available in Map View Mode, Image Mode as well as Hybrid Mode.
Standards based application as per Open Geospatial Consortium (OGC) taking care of all interoperability issues.
Mash-up with Global GIS services like Google Maps, Bing Maps, ESRI Maps etc.
Accessible from NIC State Geo-Portal.
He also informed that G-governance (Geographic Governance) initiatives have been taken at State and  District levels by promoting and using Geo-Spatial technologies such as  GIS, Remote Sensing, Image Processing, GPS, Mobile App and  best practices for grass-root level planning and sustainable development. Geospatial technologies provide attractive integrated approaches for meeting current requirements to "do more with less."
Now the ISO standards followed to bring all Spatial Layers in to WGS84 datum to mash-up with Global Image services. Sri Samal also demonstrated Ganjam District Geo-Portal in that occasion. The session ended with vote of thanks to SIO and other participants.