Honourable Chief Minister, Himachal Pradesh Inaugurates State Data Centre
Sandeep Sood, Himachal Pradesh
sood[dot]sandeep[at]nic[dot]in
|
Jun 15, 2016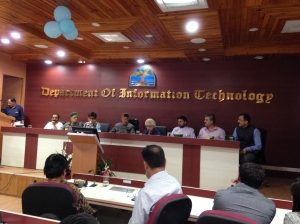 Shri Virbhadra Singh, Honourable Chief Minister Himachal Pradesh, inaugurated State Data Centre (SDC) on 4th June, 2016. The cost of construction of SDC is Rs.58 Crore and it is a green centre by minimising the consumption of power. The Cloud Technology has been implemented in the SDC which helps in consolidating physical servers installed in SDC and make them a logical unit as if it is a single unit. The CM also inaugurated the new Directorate of Information Technology, Himachal Pradesh in the same building constructed at Mehli, Shimla.
The Chief Minister emphasised that the facilities created by DIT HP needs to be put in best use by all state departments who need not to spend on procurement of high end servers for implementation of IT solutions. With the launch of SDC, now the applications will be hosted on central server and can be accessed over Internet or Intranet/HIMSWAN. Sh. Virbhadra Singh also launched a parking app developed by State DIT for Municipal Corporation Shimla. The app will help the tourists visiting Shimla in locating the parking and knowing the availability of slot in the parking. The app will be used by the parking operators to keep the data up to date so that the common user of the app gets latest information.
Speaking on the occasion, Additional Chief Secretary (IT) Sh. Sanjeev Gupta said 58 Government services were being made available through Lok Mitra Kendras (LMKs) in the State and that the efforts are on to provide 101 services by the end of this financial year. The SDC facility will result in allocation of resource (processor, memory and storage) to various eGovernance applications dynamically using the cloud software. The ACS IT explained that the physical limitation of servers in terms of processor, memory and storage will no longer be a bottleneck while implementing any IT solution in a Government department. The SDC is providing heterogeneous environment to host applications developed by government departments in Windows/Linux using .Net/JAVA/PHP and databases as MS SQL Server/Oracle etc.