Launching of e-Office for Sundargarh Collectorate by Honourable Chief Minister Odisha Shri Naveen Patnaik
A. K. Hota, Odisha
ak[dot]hota[at]nic[dot]in
|
Mar 1, 2016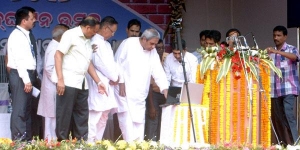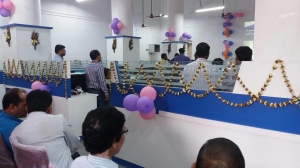 eOffice for the Collectorate, Sundargarh, Govt. of  Odisha, was inaugurated  at Bisra Maidan, Rourkela by the Hon'ble Chief Minister of Odisha, Shri Naveen Patnaik on dt-24.02.2016 at 11.30 AM.
Others present in the occasion were – Sri Juel Oram, Union Minister for Tribal Welfare, Sri Dillip Tirkey, Hon'ble MP, Sri Prafulla Kumar Mallik, Hon'ble Minister of Odisha, Sri Sarada Nayak, Chairman, Rourkela Development Authority, Sri Subrat Tarai, Hon'ble MLA, Sri Mangala Kissan, Hon'ble MLA, Sri B. Punia, Collector, Sundergarh, Sri Ranjit Prakash, ILO India Head, Sri Subash Singh, Chairman OB&OCWW Board, Ms. Rupa Mishra,IAS,  Labour Commissioner, Odisha, Dr. R. N. Behera, Sr. Technical Director, NIC, Bhubaneswar, Sri Saroj Kumar Patro, SSA, NIC(HQ), Sri Pinaki Mohanty, Project Co-ordinator, CMGI, Odisha.
NIC has developed the product e-Office with an aim to support e-governance by ushering in more effective and transparent inter and intra-government processes. The vision of e-Office is to achieve a simplified, responsive, effective and transparent working of all Government offices.
The Open Architecture, on which e-Office has been built, makes it a reusable framework and a standard reusable product amenable to replication across the governments, at the Central, State and District level. The product brings together the independent functions and systems under a single framework.
The inaugural function was coordinated by Dr. R N Behera, STD, Sri B. P. Satapathy, PSA, Sri Kandra Hembram, DIO, Sundargarh. The Chief Minister has expressed his satisfaction over the progress of e-Office implementation in Odisha and thanked NIC for providing necessary support.
eOffice is centrally coordinated  by  Ms.  Rachna Srivastava, STD and her team Sri Saroj K. Patro, SSA and others at NIC (HQ), New Delhi.
Sri S K Panda, DDG & SIO & Sri R S Gopalan, IAS, Chief Executive, CMGI has initiated eOffice implementation in Odisha.