Mobile App Launched at Indira Gandhi Krishi Vishwavidyalaya, Raipur, Chhattisgarh
Y.V.Shreenivas Rao, Chattisgarh
yvsrao[at]nic[dot]in
|
Feb 29, 2016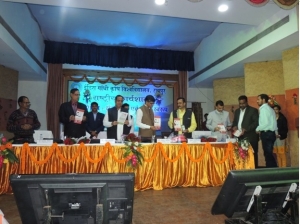 On the 20th Jan'2016,  the 30th foundation day  of the Indira Gandhi Krishi Vishwavidyalaya (IGKV), Raipur the National Workshop on "Concepts of Higher Education and its Future Nature" was organized. On this occasion the university moved one step ahead towards ICT penetration in the administration by Launching its first "Android based Mobile App" for the benefit of students, faculty members of the university, all constitutional and affiliated colleges. The Mobile App was launched by Shri Gaurishankar Agrawal, Speaker, Chhattisgarh Legislative Assembly in the gracious presence of Dr. S. K. Patil, Vice-Chancellor, many other dignitaries and faculty members.
The App has been developed by NIC Chhattisgarh State Centre, Raipur as a part of "Integrated Management Information System" being developed for the university covering seven different modules viz. Education, Examination, Establishment, Finance, Research, Extension and University Web Portal. The important features of the app are :-
Student Profile and Faculty profile
Student Registration Card
Results
Fee Receipts
Semester Report Card
The IGKV MIS Apps can be downloaded from the official website of the IGKV Raipur-  http://igau.nic.in and http://igkvmis.cg.nic.in as also from Google Play Store.
The IGKV project is being coordinated by Mr. Ashok Kumar Banjare, Technical Director and Mr. Abhijeet Kaushik, Scientist "B",  NIC Chhattisgarh State Centre, Raipur.