Gujarat Pollution Control Board goes online with XGN
Amit Shah, Gujarat
amit[dot]shah[at]nic[dot]in
|
May 5, 2009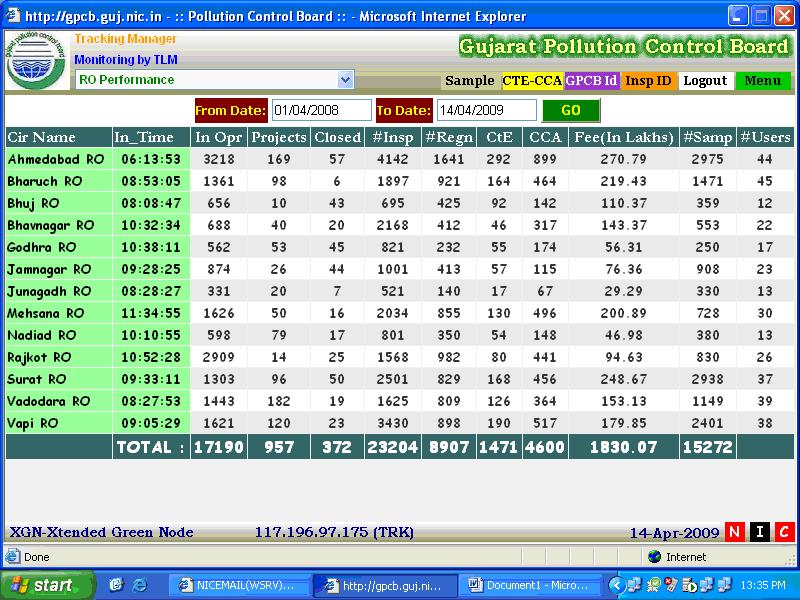 "XGN has been developed by NIC-Gujarat State Centre for the Gujarat Pollution Control Board, facilitating the users in the day to day operations at 13 field offices in Districts, the Head Office & about 17000 Industries spread all over. XGN is in operation since June-2008 and has been instrumental in effective implementation of Pollution Control Act, Rules & Notifications. Acts covered are the Air, Water, Hazardous & Bio Medical Waste, Plastics. The Stake Holders of the XGN are different types of Users at the Regional, Head office, Industries, Hospitals/Clinics (Pvt-Govt.) TSDFs, CETPs and BMW handlers. The core of xgn lies in the e-Movement & Online processing of e-Files leading to stoppage of Physical files. Average daily concurrent users are approx 75 Technical Staff, 70 Scientists, 625 Industries.
URL:- http://gpcb.guj.nic.in for G2B and G2G users
- Online NOC/CCA Application
- Status of the Application thru SMS at any of the 8 stages of processing
- Online queries on NET as well as SMS/Giving Replies (Interaction with Scrutinizers)
- Industries can Print their own Bills/Payments Receipts /Assessment Orders/Results & Inspection samples history for a period
- Any Transaction /Approval at any stage saved as a message in e-Box for further reference
- Effective e-Talk between Govt. & Business users
- Alerts towards any expiry of consents/payment due dates/returns (Annual or periodically)
= The PHCs/CHCs, Govt. Hospitals are a significant beneficiary of the BMW Module
= The 183 Lacal Bodies are the core of the MSW Module as far as monitoring of Municipal Solid Waste is concerned.
= The Inventory of Hazardous Waste generated by Industries & its eventual Treatment/Disposal by the TSDFs forms an important data flow to the CPCB, MoEF
= Products/Raw Material /Consent of Authorizations & Validity forms an important base for decisions by the Industries Department of Government of Gujarat
= Analysis & Compilation of data leads to MIS related reports for Departmental Studies, LAQs and RTI also."