Haryana: 22 e-Services Launched under e-District MMP through CSCs by Haryana Chief Minister on 02/05/2015
Neeraj, Haryana
s[dot]neeraj[at]nic[dot]in
|
May 4, 2015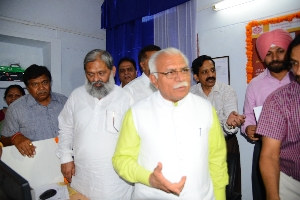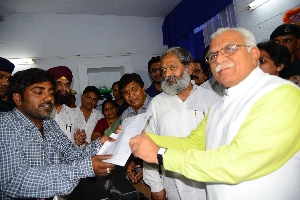 The e-DISHA Ekal Sewa Kendra initiative of Haryana, which started on 01/03/2006, has been a great success for providing one–stop citizen services in an efficient, reliable, and integrated manner through District Level e-DISHA  Centres  and Tehsil Level e-DISHA Centres. The e-DISHA Centres had been setup in all the districts & tehsils on self sustainable service charge bases.  In the Year 2010, NIC-Haryana enhanced the e-DISHA Software as e-District Application and the same was launched at Rohtak (the pilot district under e-District MMP). As on dated 117 e-DISHA centres are functioning across the State. During the Month of March 2015, around 50,000 (49627) various types of Certificates were issued electronically through e-DISHA centres.
To implement e-District Application  through CSCs, the whole software has been  enhanced by NIC-Haryana, to provide any where any time status of the service to the user over internet.  The Birth & Death Registration and Management Information System has also been enhanced to facilitate issuance of the birth, death & non-availability certificates through CSCs.
Sh. Manhoar Lal, Hon'ble Chief Minister launched  the rollout of 22 services across Haryana through CSCs on 2nd May 2015, from Panchkula CSC. 11 services of Revenue department and  9 services of Health Department have been rolled out throughout Haryana. Two services are for verification of certificates etc.
Sh. Anil Viz, Hon'ble Health & Sports Minister Haryana, Capt. Abhimanyu Hon'ble Minister Revenue, Finance, Excise, Industries & commerce, Sh. Rattan Lal Kataria, hon'ble MP Lok Sabha from Ambala, Sh. D.S. Dhesi, IAS Chief Secretary Haryana PSEIT, Secretary EIT and NIC-Haryana Team alongwith other dignitaries were present at the occasion. 
More than 600 CSCs has been established through DITS and VLEs (Village Level Entrepreneurs ) have been appointed. The Revenue & Health departments have notified their authorized signatories  for delivery of e-services.  The duly authenticated certificates shall be available online and can be printed by VLE at CSC for delivery of the same to the citizen. The citizen application shall be processed with the help of scanned documents received through the CSC or e-DISHA  centre. There will be no Physical File movement. Only electronic file movement in application workflow.
The State has also initiated establishment of SRDB (State Residents Data Base) using the digitized and merged data of NPR-2011 & SECC-2011 and seeding Aadhar numbers from SRDH. Any citizen, who wish to avail any e-service through CSC / e-DISHA centre, would be required to register in the Citizens Integrated Data Repository (CIDR)/SRDB and any document / certificate issued under e-Service delivery by the state government would also be recorded in CIDR/SRDB for future reference, downloading, verification services etc.