Launching of Official Website of District Court, Khurda, Bhubaneswar
A. K. Hota, Odisha
ak[dot]hota[at]nic[dot]in
|
Apr 22, 2013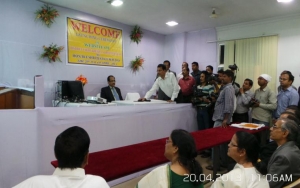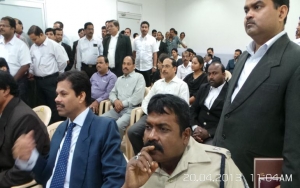 The official website of District Judge court Khurda (http://districtcourtkhurda.nic.in) was inaugurated on Dt-20.04.2013 by Hon'ble Shri Justice M. M. Das of Odisha High Court in the Chamber of District Judge, Khurda at Bhubaneswar in the presence of Shri Debabrata Dash, Hon'ble District Judge, Khurda.
This is the 2nd District Judge court website of Odisha after District Judge court Cuttack.  Speaking on the occasion Hon'ble Justice Shri Das
explained about the benefit of e-governance service in judiciary. This portal will facilitate citizens, Judicial officers to know about the details of District Judge Court, judgements,  cause list , legal aid services, about family court, special courts, location maps and download different judicial forms etc. Several links to judicial sites have also been provided over the portal.
The portal is developed by NIC, Khurda District Unit under the guidance of Sri S K Panda, DDG & SIO, Dr. R N Behera, Senior Technical Director, NIC, Bhubaneswar. The portal was demonstrated by Dr. K C Panda, District Informatics officer, Khordha.
Officers present in the occasion   include Shri Debadutta Das Mohapatra, Registrar and other Judicial Officers of different courts, Member Secretary, Bar Council, Addl. District Magistrate, Bhubaneswar, Dr. R N Behera, Senior Technical Director NIC, Bhubaneswar and other NIC Officers.