ELECTRICITY DEPARTMENT, DADRA AND NAGAR HAVELI
Lokesh Joshi,
lokesh[at]nic[dot]in
|
Apr 12, 2013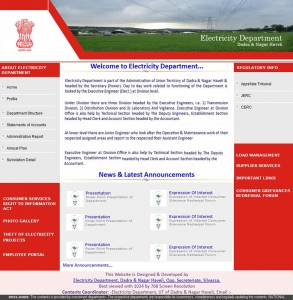 Electricity Department functions as an integral part of the administration of Union Territory of Dadra & Nagar Haveli. The organization runs under the aegis of Secretary (Power) and its day to day work is handled by the Executive Engineer (Elect.) at Division level. The website has visually appealing design with multi-level navigation to ensure quick and easy access to information. On the header, very few images have been intelligently displayed through an image slider. The website seems to be compatible with all major browsers but can be best viewed with 1024 x 768 screen resolution. The choice of bold colours in text and design ensures high visibility. Enriched with content, the website provides information about the profile and structure of the department. It also gives complete information on the Consumer services provided by the department such as Electricity Supply Code, Electricity Rules, Distribution Open Access, Complaint Centre, Tariff Order, Application Forms etc. Information about the on-going projects of the department is also provided. The website offers interactivity in terms of online view of Bills and Payment Details, Complaint Centre and Consumer Grievances Redressal Forum. It is regularly updated with news and latest announcements of the department. Important links to other websites are also provided in the right menu.