Inauguration of Server Room and Judicial Service Center at Muzaffarnagar, Uttar Pradesh
Anshu Rohatgi, Uttar Pradesh
anshu[dot]rohatgi[at]nic[dot]in
|
Dec 19, 2012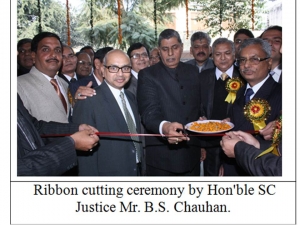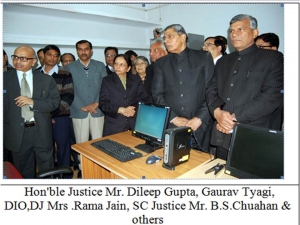 Hon'ble Justice of Supreme Court of India Shri B.S Chauhan inaugurated the automated judicial service center and computer server room at Muzaffarnagar, Uttar Pradesh on 8th December 2012. The occasion was also graced by the presence of Hon'ble Administrative Judge, Muzaffarnagar Justice Shri. Dileep Gupta, Registrar of High Court, Allahabad Shri Annat Kumar, District Judge Smt. Rama Jain and Bar Associations members. Additional District Judge Shri Ghanshyam Pathak, and Technical Director/ District Informatics Officer Shri Gaurav Tyagi, gave a brief account of activities being carried out at the judicial service center to the dignitaries present during the function. This Judicial Service Center has been set up under the e-Courts prrogramme of NeGP and all technical support will be extended by NIC-Muzaffarnagar.
Similar judicial service centres will be established in all the districts of the state and will provide services free of cost to the people. Any litigant, advocate or general public can get access to cause list, case status, order and judgment.  It is heartening to note that Information Technology tools have been used to streamline the key functions of court like case filing, allocation, registration, casework flow, orders and judgments. The project will also bring transparency in the workflow.
Judicial Service Centre is a part of e-Courts or District Court Computerisation programme wherein all the 32 courts have been connected over LAN. Laptops & training on IT and other aspects of computerization has been imparted to judicial officers and staff of district court, and technical manpower has been posted to provide technical assistance and management of the ICT infrastructure available. It is also expected that soon the district court and jail of Muzaffarnagar will be equipped with the facility of video conferencing.