Launch of Mo Parivahan Seva and Next Gen mParivahan App By Honourable Chief Minister, Odisha on 23rd August 2023
Shri Hara Prasad Das, Odisha
hp[dot]das[at]nic[dot]in
|
Aug 29, 2023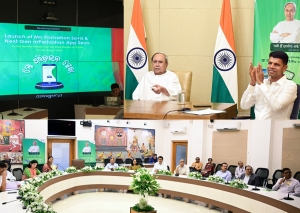 Hon'ble Chief Minister of Odisha, Shri Naveen Patnaik officially launched the visitless services under a brand name 'MO PARIVAHAN SEVA' and the Next Gen mParivahan App on 23rd August, 2023 in the presence of Hon'ble Minister of Transport, Smt. Tukini Sahu,  Hon'ble Minister of Electronics & IT, Shri Tusharkanti Behera, the Chief Secretary to Govt of Odisha, Development Commissioner, Secretary to CM-Transformation and Initiatives (5T), Principal Secretary of C & T dept., IT Secretary, Transport Commissioner of Odisha, Dr. Ashok Kumar Hota, DDG & SIO of NIC, Odisha, Dr R K Das, DDG & HoD and Shri Prasant Kumar Nayak, Sr. Director(IT) & Project Coordinator etc.
To ensure good governance and encourage citizens to use digital platform, Govt. of Odisha dedicated certain online services for the citizens. Any individual desirous of availing various online services of Transport Department through the portal https://parivahan.gov.in or Next Gen mParivahan App, developed by National Informatics Centre, is required to undergo Aadhar authentication.
Any person not having Aadhar can also avail such services in physical form by establishing the identity by submitting an alternative document physically with respective RTO authority as per CMVR, 1989.
The following services are added in Parivahan portal for which the citizens can get the services by proper Aadhaar authentication.
Registration Certificate (RC) Services           
Issue of Duplicate RC
Issue of NOC
Transfer of Ownership           
Driving License (DL) Services
Issue of Learner's Licence
Issue of Duplicate DL
Renewal of DL
Change of Address in DL
Similarly, to provide more convenience to the citizens and to increase accessibility, Ministry of Road Transport and Highways (MoRTH) in technical collaboration with NIC, has developed a super app "Next Gen mParivahan" encapsulating all the features, functionalities and related utilities pertaining to transport related services on a single platform.
This app will help in improving transparency and ease of service access by connecting all stakeholders through a common system and all the information will be one click away. Various services and utilities of Vahan, Sarathi and eChallan etc. have been included in the Next Gen mParivahan app with state-specific customizations.
The first version of the app with certain online vehicle, driving license and eChallan related services and utilities have been developed. The app is available on both Android and iOS platforms. This will be of great benefit to citizens in general and is likely to be potential game changer.