eGram Portal Launched in Rajasthan
Amit Agarwal, Rajasthan
amit[dot]agarwal[at]nic[dot]in
|
Jul 24, 2023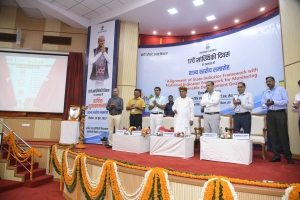 Hon'ble Statistics Minister of Rajasthan, Shri Govind Ram Meghwal launched revamped Chief Minister's eGram Portal on the occasion of 17th Statistics Day celebration at Jaipur. Secretary, Planning and Statistics, Shri Bhawani Singh Detha, Director Economics and Statistics, Shri Bhanwar Lal Bairwa, SIO NIC, Shri Jitendra Kumar Verma, DDG NSSO, Shri Hansraj Yadav, ASIO NIC, Shri B.S. Chauhan, Sr. Director(IT), NIC, Shri Amit Agarwal and Media personalities were present during the launching ceremony. Adressing to the gathering, Hon'ble Minister said Data is required in every field and effective implementation of any schemes is not possible without statistics.
eGram Portal has been revamped with latest schemes and requirements of the government. The portal contains the detailed information of infrastructure, facilities, services and schemes available in the villages. Information includes Geography and Demography of village, Livestock, Major crops, Drinking water status, Electricity, Medical and Health services, Education facilities, Banking facilities, Housing schemes, Women and Child development, Electorates, Major minerals, Public Distribution System, Government buildings, Government hostels and any other facilities available in the village. Regular updation of portal will be done from Block offices.
Portal will serve as a ready reckoner of facilities and services available at village level for planning purpose to the government. Access to the portal has been given to concerned departments. Various statistical and analytical reports will be generated with the portal. Village wise data will also be available in public domain for citizens.