Haryana:- First State level Conference on Medico-Legal organized at Panchkula on 11/02/2023
Deepak Sawant, Haryana
sawant[dot]deepak[at]nic[dot]in
|
Feb 14, 2023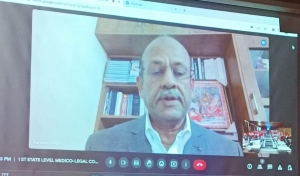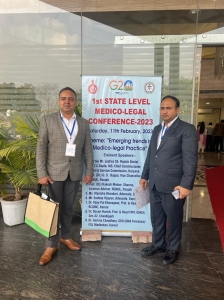 First State level Medico Legal Conference 2023 was organized by Directorate of Medical Education & Research, Haryana in collaboration with Kalpana Chawla Government Medical College, Karnal (Haryana) and Rajiv Gandhi National University of Law, Patiala(Punjab) at PWD, Guest House, Sector-1, Panchkula on 11/02/2023 where Medico-Legal Examination and Post Mortem Reporting System (MedLEaPR), application developed by NIC Haryana and implemented in State of Haryana, Punjab, Rajasthan, Madhya Pradesh, Himachal Pradesh and Chandigarh(UT) was presented  as  best practice in field of Medico-Legal  reporting preparation and its integration with various laboratories  ( Forensic Science Laboratory, Food laboratory, Chemical Laboratory, Drug Laboratory, Excise Laboratory etc.) and CCTNS (Crime and Criminal Tracking Network & Systems).
 Chief Guest of Conference , Justice Rajesh Bindal , Judge-Designate , Supreme Court of India attended the conference through Video conference appreciated the effort made by NIC–Haryana in developing the application and streamline the process of information flow among the stakeholder with timely intimation of  information in form of SMS and email. By this application responsibility of each stake holder is ensured and can be monitored at institute level, District level and State level thus bringing efficiency, transparency and   responsive system. Justice Bindal also appreciated Doctors of State of Haryana, Punjab for their contribution in success of this initiative with special mention to DGHS, Haryana for their role in preparation of Haryana Medico Legal manual and provide funding to NICSI for development and continue handholding of project for last 10 years.
The MedLEaPR initiative was under taken during the tenure of Justice Rajesh Bindal as Chairman of Computer Committee of Punjab and Haryana High Court, Chandigarh and was driving force for the success of these initiatives.