MCTE Students visit NIC Headquarters
Hemendra Kumar Saini, Delhi
hemendra[dot]saini[at]nic[dot]in
|
Dec 1, 2022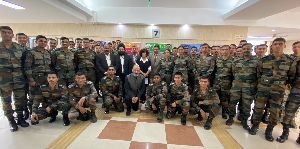 On 1st December 2022, a group of students from the Military College of Telecommunication Engineering (MCTE), Dr. Ambedkar Nagar, Madhya Pradesh, a technical training institute established by the Indian Army to train officers in information and communication technology, visited NIC Headquarters to learn about the latest technological trends.
The group met with NIC officers at National Data Centre, the NIC-Computer Emergency Response Team, and the Centre of Excellence in Artificial Intelligence and Data Analytics.
NIC Officers elucidated them about the NIC's role in digital transformation and eGovernance across the country. They also informed them about recent technological trends in Artificial Intelligence, Machine Learning, Data Analytics, CyberSecurity, and Cloud Services.