Hon'ble Chief Justice of India launches Supreme Court App 2.0
Hemendra Kumar Saini, Delhi
hemendra[dot]saini[at]nic[dot]in
|
Dec 7, 2022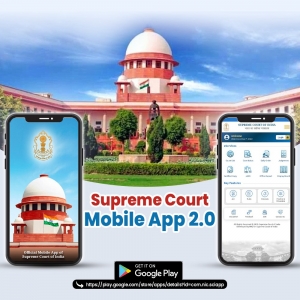 The Hon'ble Supreme Court of India has released version 2.0 of its Android mobile application, which will provide useful information on pending and decided cases. It will also provide personalised Dashboards with Cause Lists, Case Status, Daily Orders, Judgments, Latest Updates, Office Reports, Circulars, and other useful information. All of this can be accessed, downloaded, and shared through a simple interface.
While launching the android mobile application, Hon'ble Dr. Justice D.Y. Chandrachud, Chief Justice of India, said the mobile application can be downloaded from Google Play Store while the iOS version will be available in a week's time. He went on to say that, in addition to lawyers and advocates on the record, the application will provide exclusive real-time access to all law officers and nodal officers of various Central Government Ministries. By logging in through this application, they can watch the court proceedings.
During the pandemic, a few media personnel were given access to virtually watch court proceedings and report on them. The application provides access to the Attorney General of India, Additional Solicitor General of India and all other law officers to view the Government and central ministry cases filed in the Supreme Court.