LAUNCH OF DISTRICT WEBSITES OF HAILAKANDI AND SIVASAGAR DISTRICTS
Kavita Barkakoty, Assam
asm-kavita[at]nic[dot]in
|
Dec 13, 2022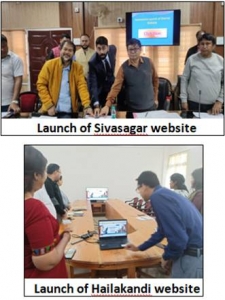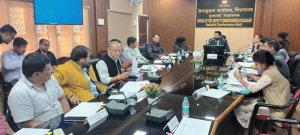 December 5, 2022:
Shri Nisarg Hivare, IAS Deputy Commissioner and Dr. Suchitra Pyarelal, DDG & SIO NIC Assam, jointly launched the new district website, https://hailakandi.assam.gov.in, designed on the e-Prastuti SWF 2.0 platform. NIC along with the State Government of Assam has initiated a project called 'e-Prastuti - Standardization of Websites (SWF)' in 2015 to standardise all the Government websites under a single platform.
The goals of this project are to create a single, unified Standard Web Platform for all government departments' websites, establish criteria for service delivery, enforce standardisation, and foster greater citizen participation and collaboration.
Development of the Assam government's one, integrated web platform. Through this web gateway, links to the standardised websites of all government ministries will be accessible.
Ensure a seamless online experience across all government websites, one hub for all information and services.
Establishing standards for service delivery and maintaining uniformity dissemination of all information in a uniform format. To the greatest extent possible, all services shall be made available through the District Website, Department websites as well as the Government of Assam Web Portal (GoAWP).
Promoting interaction and participation among public at large by linking the platform with social media resources, soliciting feedback, and setting up online polls, discussion boards, and consultation.
DIO of Hailakand,  Sh.Monsoor Akthar had  given a brief demonstration of the new features during the launch. DIO had extended all technical support and training to the district administration for the design and development of the Hailakandi district website.
December 10 2022:
Deputy Commissioner of Sivasagar Shri Aditya Vikram Yadav, IAS launched the official website of Sivasagar District in presence of Hon'ble MLA of Nazira LAC Shri Debabrata Saikia, Hon'ble MLA of Thowra LAC Shri Sushanta Borgohain, Hon'ble MLA of Sivasagar LAC Shri Akhil Gogoi. The website https://sivasagar.assam.gov.in/ has been developed by DIO, Sivasagar in e-Prastuti 2.0 framework under the guidance of Smti Anuradha Barua, Scientist-E. The welcome speech was given by Deputy Commissioner, Sivasagar and after the launch, Sh. Jagadish Buragohain DIO Sivasagar explained the features of the new website, different menu items and different types of contents that the website is trying to showcase for the benefits of the public. In the inaugural meeting, Additional Deputy Commissioners, Sub-divisional Officer (Civil), Circle Officers, DFO, Heads of the Departments, Members of District SDLAC committee, DM (DITEC), District Consultant (ILRMS), FMS (NIC) and other officials were also present. The esteemed dignitaries present at the meeting appreciated the effort and congratulated the District Administration as well as NIC team for developing the website.