e-KATCH: Kangra Application for Tracking Chunav Developed by NIC Kangra, HP for Assembly Elections 2022
Ajay Singh Chahal, Himachal Pradesh
ajay[dot]chahal[at]nic[dot]in
|
Nov 23, 2022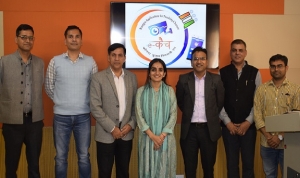 To digitise the election expenditure monitoring and ensuring that the details with regard to work done by various EEM teams in all assembly constituencies ranging from putting nakkas at various locations, acting on MCC complaints by FST teams, Suo moto inspections, seizures by various teams of EEM, excise and police, recording of expenditure of rallies, the movement of liquor from distilleries and other election related expenditure by the candidates etc. the idea of e-katch application came about. This application was conceived by the District Election Officer Kangra and developed by the District Kangra National Informatics Centre team.
Various reports which are required to be submitted by teams were scrutinised and reports of the last elections were called for analysis. It was observed that these reports ran into pages and there were significant gaps in reports from various teams, in the sense that many of the teams had not submitted the data timely. The mandate of each of the team was studied in detail and improvisation was made, wherever required in reports for instance a 'District/Constituency at a glance' report. Based on the requirements of the teams, data entry modules were developed. As many as 8 modules were developed namely - FST, SST, MCC, Excise, Police SHO Level, Police Naka, Observer, GST, Rally modules.
The e-Katch application has proved to be very useful for monitoring, compilation of data in a speedy way, for greater transparency and for ease of monitoring of election processes. This has ensured a great ease not only on part of monitoring by the DEO office and Observers; but also has helped the various teams in maintaining the data in an efficient and hassle-free manner. It has also been felt that the EEM teams have also become more vigilant as they are aware that they are being monitored in real time and hence it has increased the overall efficiency of the entire expenditure monitoring system.
The application has been developed by NIC District Unit, Kangra at Dharamshala on .NET framework 4.5 Backend MS SQL 2016 Client end JAVAScript. Sh. Bhupinder Pathak, DIO and Sh. Akshay Kumar, ADIO worked round the clock to develop this application in a short time.