One Day Symposium on Artificial intelligence (AI) and Internet of Things (IoT) on 10th November, 2022, in Assam
Kavita Barkakoty, Assam
asm-kavita[at]nic[dot]in
|
Nov 22, 2022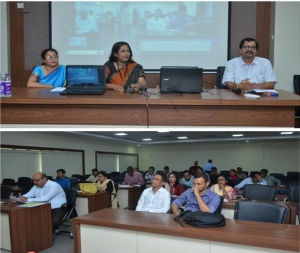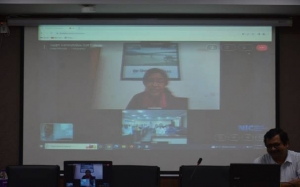 Nov 10, 2022: A one-day symposium on "Artificial intelligence (AI) & Internet of Things (IoT)" was held at the Assam Administrative Staff College(AASC), Government of Assam on 10th November, 2022. The event was held in collaboration with the Centre of E-Governance, AASC  and National Informatics Centre (NIC), Assam. The Symposium was attended by the Officers of  various Departments of  Government of Assam.
Sri Lakshmi Narayan Thakur, Deputy Director of Training, AASC welcomed the participants and the faculty experts. During the inaugural session. Dr. Suchitra Pyarelal, Deputy  Director General and State Informatics Officer, NIC Assam gave a brief overview of the latest technologies and trend  in  Artificial Intelligence (AI) and Internet of Things (IoT). She also highlighted some of the initiative taken by NIC Assam for various  government department in recent times.  She mentioned about  the Jaltarangini project developed by NIC Assam  that is being adopted & implemented by the Government of Assam for implementation.
| | |
| --- | --- |
| Smt. Sharmistha  Dasgupta, Deputy  Director General & Head of Centre of Excellence for  Artificial Intelligence, NIC New Delhi gave an overview of  Artificial Intelligence (AI) Technology and its use in various government departments and sectors. In her session, she explained about various AI projects undertaken by Government of India and other states like Karnataka, West Bengal  etc.  Smt. Nidhi Lohat, Scientist C, NIC Delhi gave a brief  overview of  conversational  AI Services and its advantages.  The team of Shri Gautam Dev Sharma, Scientist B, NIC Assam, Smt. Maitreyee Sharma  Scientist B, NIC Assam and Shri Shashank Misra, Scientist B, NIC Karimganj District explained  about various Real-World AI applications and how it can help government in taking important decision and also citizen.  Shri Surajit Phukan,  Schientist B, NIC Dibrugarh District  and Shri Monsoor Akhtar Borbhuyan, District Informatics Officer,  NIC Hailakandi gave a brief overview of IoT technology. They demonstrated the IoT based device Jaltarangini developed by them  is a sensor enabled device used as alarm for rising water level during Flood which has been developed by them.  Jaltarangini  is adopted by Disaster Management Department, Government of Assam for roll out and implementation in all districts of Assam. |   |
A total of 23  participants took part in the one-day symposium. The symposium concluded by a vote of thanks from Sri Lakshmi Narayan Thakur, Course Director AASC.