Assam CM dedicates PSKs for Kritagyata Services
Kavita Barkakoty, Assam
asm-kavita[at]nic[dot]in
|
Jul 30, 2022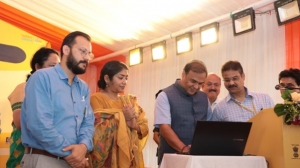 Guwahati, July 29, 2022: In a state-level function organized today by the District Administration, of Kamrup (M), Hon'ble Chief Minister of Assam Dr Himanta Biswa Sarma inaugurated 27 Kritagyata Pension Seva Kendras (PSKs)  and dedicated them to the citizens of Assam. He appreciated the functionalities of the Kritagyata portal  which provides digital facilities for online pension sanction and payment tracking thereby simplifying the operations of the pension process. Till now 5000+ PPOs have been generated by the system.
The Hon'ble Chief Minister also categorically expressed his satisfaction in the functioning of the Jeevan Pramaan portal [https://jeevanpramaan.gov.in] which enables generation of digital life certificates without pensioners having to make physical visits to banks. The Hon'ble CM has also felicitated pensioners with the Digital Life Certificates generated by Jeevan Pramaan.
The PSKs will act as facilitation centres which will provide all necessary support to the pensioners for submitting online forms, sanctioning by the Head of Offices, uploading of scanned Service Books, generation of Life Certificates from Jeevan Pramaan using biometrics through registered devices associated with Jeevan Pramaan.
Shri Manabendra Goswami, Technical Director, NIC was present in the event and demonstrated the process flow of PSKs to the Hon'ble Chief Minister, Assam.
Earlier, on August 9,  2021 the Hon'ble Chief Minister after had dedicated the NIC-developed portal Kritagyata (under the Bhavishya Platform) [https://kritagyata.assam.gov.in] to the citizens of the State, and had announced that Pension Seva Kendras would be established across 27 selected districts of Assam under project Kritagyata as a front-window to facilitate pensioners to avail the seamless services of Kritagyata.