Birth Registration from Orphanages and Registration Monitoring Mobile App Launched on Statistics Day 2022 in Rajasthan
Amit Agarwal, Rajasthan
amit[dot]agarwal[at]nic[dot]in
|
Jun 30, 2022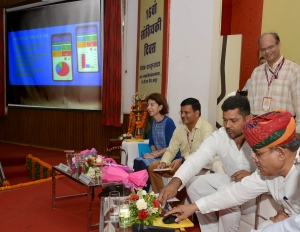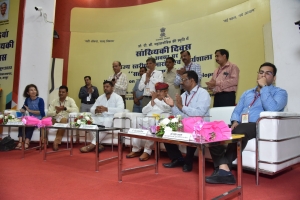 On the occasion of 16th National Statistics Day state level celebration at Jaipur, Hon'ble Minister Statistics, Rajasthan, Shri Govind Ram Meghwal and Hon'ble Minister of State Statistics, Rajasthan, Shri Ashok Chandna launched two new services developed by NIC Rajasthan.
1. Facility of online Birth Registration of the Orphan child from all Orphanages of the state is launched. This will facilitate orphanages to timely register the orphan child for birth registration and download the digitally signed certificate from the pehchan portal.
2. New feature in Pehchan Mobile App is launched which will enable all Registrars and administrative users to use the Mobile App for monitoring purpose. The facility will be useful for 14,500+ Registrars and Sub Registrars, all District Registrars and all Block officers to monitor the Birth, Death and Marriage registrations through the App.  Facilities includes Citizens, eMitra and Private hospitals applications details with their pendency, Registration status and approval of the updation requests. This will ease and speedup the registration process in the state.
Pehchan Mobile App is available on Google Platy store and Apple Store for citizen's services which includes apply, search and download the Birth, Death and Marriage registrations through the Mobile App. App has about 5.5 lacs downloads.
Shri Jitendra Kumar Verma, State Informatics officer, NIC Rajasthan, Shri B.S. Chauhan, Sr. Technical Director and Shri Amit Agarwal, Sr. Technical Director were present during the launching ceremony. Hon'ble Ministers, Chief Registrar (Birth-Death) and other dignitaries appreciated the new services and NIC works for Statistics Department, Rajasthan. NIC has developed various portals and Mobile Apps under the guidance of State Informatics Officer, NIC, Rajasthan. Important portals are Civil Registration System, Rajasthan, Rajasthan Business Register, Price Statistics in Rajasthan, Rajasthan Agriculture Statistics, Statistical Abstract Application of Rajasthan, Index of Industrial Production, District Domestic Product etc. Few projects has also been replicated in other states.
Shri I.D. Variyani, Senior Technical Director, NIC Rajasthan was awarded by the Hon'ble Ministers for his services for various statistics generation in the Integrated Financial Management System (IFMS) for finance department, Rajasthan.