The CM of Chhattisgarh launched eKrishi Rojgar mobile App
Y. V. Shreenivas Rao, Chattisgarh
yvsrao[at]nic[dot]in
|
May 10, 2022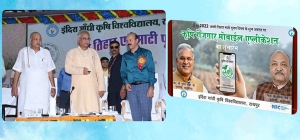 Hon'ble Chief Minister of Chhattisgarh, Shri  Bhupesh Baghel  inaugurated e KrishiRojgar an Android-based Mobile app for the farmers of CG  at state level festival "Akti Tihar Evam Mati Pujan Divas " on 03rd May 2022 at Indira Gandhi Krishi Vishwavidyalaya (IGKV), Raipur in the presence of Shri Ravindra Choubey, Minister of Agriculture,  Dr. GirishChandel, Vice-Chancellor, IGKV, Shri K P Singh, APC Govt. of Chhattisgarh  and other Officials from the IGKV, NIC and Agriculture Department.
E Krishi Rojgar mobile app has been developed by   Indira Gandhi Agricultural University and NIC Raipur to make farming more accessible through digital revolution to the farmers.  This App is the first of its kind in the the country providing facility to the  agricultural graduates, technicians skilled in maintenance and management of agricultural equipment, youth having knowledge of agricultural enterprise, farmers having knowledge of advanced agriculture etc. to register themselves so that  farmers who give and receive employment can  contact and employ them thereby increasing their income according to their qualifications and skill. Besides providing services related to traditional farming, dairy, Poultry Farming, Bee keeping Mushroom Farming, consultation on advanced agriculture, entrepreneurship on agriculture etc. the App also provides videos of various crops for advanced farming, Knowledge and information related to Agriculture etc.
Major Objectives of Mobile App: 
1. To provide employment opportunities related to agriculture to the agricultural graduate students in the nearby areas according to their qualification.
2. To provide online medium for employment related to agriculture to all the youth and farmer brothers of Chhattisgarh.
3. To make available the information of technically competent persons online for performing agricultural related works.
4. To encourage and expand agriculture-related startups and provide proper means.