NIC-Haryana State Centre received CSI SIG Award for Haryana Real Estate Regulatory Authority (HRERA)
Deepak Sawant, Haryana
sawant[dot]deepak[at]nic[dot]in
|
Apr 25, 2022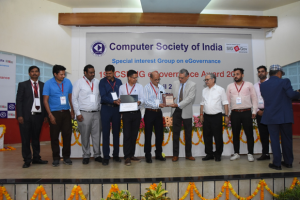 NIC-Haryana State Centre received the CSI SIG e-Governance Award for Haryana Real Estate Regulatory Authority (HRERA) under State Government Project Category on 23rd April 2022 as part of the 19th CSI SIG e-Governance award 2021 at MNNIT, Allahabad, Prayagraj, Uttar Pradesh.
Haryana Real Estate Regulatory Authority – Award of Recognition
HRERA :-
The "e" in e-Governance stands for 'electronic'. Thus, e-Governance is basically associated with carrying out the functions and achieving the results of governance through the utilization of ICT (Information and Communications Technology). While Governance relates to safeguarding the legal rights of all citizens, an equally important aspect is concerned with ensuring equitable access to public services to all. It also ensures government to be transparent in its dealings, accountable for its activities and faster in its responses as part of good governance.
However, this would require the government to change itself – its processes, its outlook, laws, rules and regulations and also its way of interacting with the citizens. It would also require capacity building within the government and creation of general awareness about e-Governance among the citizens. One of the G2C initiatives taken by Government of Haryana under e-governance was HRERA & HREAT for Real Estate sector. Targeted at the idea of regulating real estate sector for its harmonious growth and developmental governance, the State government has established two separate regulatory authorities, including a dedicated authority for Gurgaon region and an Appellate tribunal at Chandigarh.
The jurisdiction of HRERA, Panchkula is entire Haryana except the revenue district Gurugram. Haryana Real Estate Appellate Tribunal (HREAT) caters to entire state of Haryana. A web portal (https://haryanarera.gov.in) has been developed under section 4.3 of the Real Estate (Regulation & Development), Act, 2016 (RERA) in the same pace.
HRERA is developed by NIC Haryana team Shri Bidyut Ranjan Gohain, Scientist-F, Shri Prakash Chander Kala, Scientist-B under the able guidance of Sh. Deepak Bansal, SIO & DDG, NIC, Haryana.
Features of HRERA at a Glance
Digital empowerment of citizens for real estate sector
One single portal for Panchkula and Gurugram Authorities
Online Complaint Filing Citizen/ Buyers & status tracking
Online  Promoters/Developers Registration &  status tracking
Time bound hearing & disposal of complaint cases (60 days)
Easy access  and tracking of information for  general public
Workflow based backend automation of office activities
Ease of using Online Payment System for requisite fees