Launching of Revamped Website of Directorate of Sainik Welfare, Chhattisgarh
Y. V. Shreenivas Rao, Chattisgarh
yvsrao[at]nic[dot]in
|
Apr 7, 2022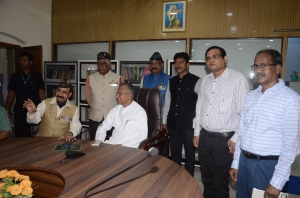 The Directorate of Sainik Welfare, Chhattisgarh serves about 8000 Ex-Service Men and their family members by running different welfare schemes for them. The website of the department which was very old, purely static in nature and was not GIGW compliant has been revamped to be fully responsive, bilingual and GIGW compliant website using UXDT Template of NIC by NIC Chhattisgarh State Centre, Raipur.
The newly designed website of Directorate of Sainik Welfare, Chhattisgarh (http://sainikwelfare.cg.gov.in) was launched on 4th April 2022 by Shri TamradhwajSahu, Hon'ble Home Minister of Govt. of Chhattisgarh in gracious presence of Brigadier Shri Vivek Sharma, VSM (Retd.) Director of Sainik Welfare Chhattisgarh, Shri Dhananjay Dewangan (IAS), Major General Shri Sanjay Sharma (Retd.), Department officials and other Dignitaries.
Joining on the occasion, Shri Ashok Kumar Banjare, Scientist-F and Shri Aseem Kumar Thawait, Scientist-C of NIC Chhattisgarh apprised the Home Minister abou  the website content related to various welfare schemes run by the department and information about the ten District Sainik Welfare Offices in the state and links of important websites useful for Ex-Service Men of the state.
The Director Sainik Welfare, Chhattisgarh appreciated the effort made by NIC Chhattisgarh in developing the new website.