Hon'ble CM, Chhattisgarh rewarded Indira Gandhi Agricultural University (IGKV) and NIC for e-Haat App
Y. V. Shreenivas Rao, Chattisgarh
yvsrao[at]nic[dot]in
|
Dec 10, 2021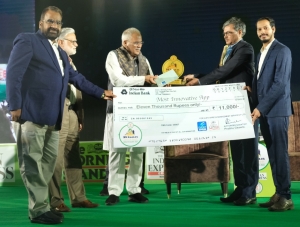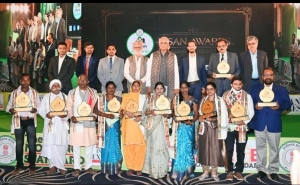 The Chief Minister, Shri BhupeshBaghel, at the Kisan Summit and Award Ceremony held at Raipur on 6th December 2021, felicitated Vice Chancellor Dr. S.S. Sengar, Dr. R. R. Saxena of IGKV and Scientist Shri Abhijeet Kaushik of NIC, Chhattisgarh with citations and prize money cheque for eHaat– most innovative mobile App, an online platform for direct marketing.
e-HAAT is the online Agri-Market where farmers can buy/sell or advertise fruits, vegetables, agriculture produce or any agriculture machinery, Tools or Tractors etc.
The major goal of this mobile app is to act as a catalyst by providing a web based marketing platform to the farmer's especially small, marginal, medium and landless to directly sell to the buyers. Now, farmers can sell their produce directly to end consumer i.e. customer or any other group buyers on e-HAAT.
eHAAT mobile app is 100% free for farmers. Buyer can search product based on categories and distance. As and when any farmer/seller uploads the product for sale, app gives the notification of the same. In this, the role of middlemen is eliminated and farmers are getting good price of their product.
Also, e-HAAT is catering to almost all needs of the agriculture fraternity where they will find all commodities/ items ranging from Tractors, Pump Sets, Farm Implements, Seeds, Cattle feed, Grain storage bins, Water Tankers, Wheel Barrows, Trolleys, Tree Guards, Gardening tools and many more.