Inauguration of eOffice by Dr. Jitendra Singh Honorable Minister of Science and Technology and Earth Sciences
Parminder Kaur, Punjab
parminder[dot]kaur[at]nic[dot]in
|
Nov 17, 2021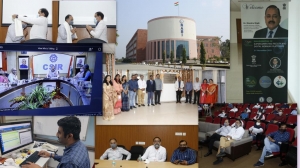 In a major step towards decision making in NABI & CIAB efficacious and transparent, Hon'ble Minister of Health & Family Welfare, Science & Technology and Earth Sciences Dr. Jitendra Singh inaugurated  the eOffice facility under the 'Digital India' Initiative on Tuesday 02-11-2021, to facilitate seamless electronic movement of organization files.  This is the key initiative taken by NABI and CIAB towards empowering digital institutional activities under the mission 'Digital India'.
The Minister, while noting with satisfaction the rapid strides made by NABI in distinguishing fields and, hoped the new initiative would further transform work culture and ethics in government offices, besides eventually reducing the burden of employees by shifting from manual handling of files to online dealing.
During the welcome address, Sh. Vikram Jeet Grover, Senior Technical Director said that NIC had already conducted comprehensive trainings to Nabi Staff and it was one the few instances of eOffice in India which has been deployed in Department's own data centre and the version deployed with eFile (Next Generation 7.1.1). NIC Punjab HOD (eOffice) Sh. Amolak S Kalsi, Senior Technical Director & Scientist 'F' and Project Coordinator Sh. Pankaj Jain, Scientist 'D' were also present in the event.