Launch of Haryana Seed Portal (https://uttamseed.haryana.gov.in) by Chief Minister Haryana
Deepak Sawant, Haryana
sawant[dot]deepak[at]nic[dot]in
|
Nov 15, 2021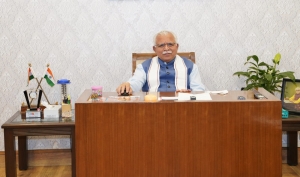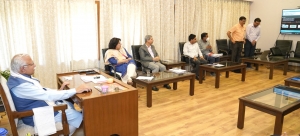 Hon'ble Chief Minister Haryana Mr. Manohar Lal launched Haryana Seed Portal (https://uttamseed.haryana.gov.in) on 30/10/2021 in Chandigarh. This seed portal will provide transparency in the seed production programme arranged by Government as well as Private Seed Producing Agencies and will ensure better quality of certified seed.
This portal has been developed by NIC Haryana.  Sh. Alok Srivastava, Scientist-F, NIC-Haryana  briefed  the salient features of Seed portal to Hon'ble Chief Minister Haryana and esteemed guests.  A farmer can apply for Seed Development Program and seeds would be issued to the farmers by seed producing agencies using this portal. All Producing agencies would come under the ambit of this portal. This portal has been integrated with Meri Fasal Mera Byora (MFMB) Portal. The issuance program has been linked with seed inventory so that the authorities can monitor the availability of seeds in real time basis for decision making. Later this portal will also be linked with the seed certification program for survey and testing.
On this occasion, Smt. Sumita Mishra, Additional Chief Secretary, Agriculture, Sh. V. Umashankar, Principal Secretary to Chief Minister, Dr. Hardeep Singh, Director General, Agriculture,  Sh. Sanjeev Verma, Managing Director, Haryana Seed Development Corporation (HSDC) and officers of other departments were also present.