IntraGov Haryana, with Integrated e-Office - Facilitating Core Government Functions
informatics, NIC-HQ
editor[dot]info[at]nic[dot]in
|
Apr 28, 2010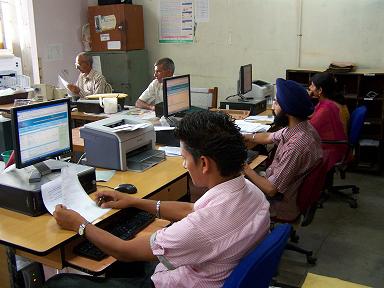 The IntraGovHaryana is aimed to provide a single point gateway which integrates government transactions and services within Civil Secretariat as well as those between Chief Secretary Office and Secretariat employees.  The IntraGov Haryana has been developed & implemented as an Intra Government Transactions Portal, establishing an integrated workflow based system for G2G and G2E services for achieving e-Administration in Haryana Civil Secretariat. The system was launched by then Chief Secretary Haryana on 26th October, 2009. The project was funded by Department of Administrative Reforms and Public Grievances, Government of India. The approved funds were released to NICSI during December, 2008.
The goal is to improve significantly the efficiency, effectiveness, accountability, and transparency in intra-department and inter-department businesses within the Haryana government and with its employee. Single standards based Directory Service (LDAP) has been used to provide access to the portal to   more than 2000 employees of Haryana Civil Secretariat. Role-based, secure access to the various G2G and G2E services has been provided to the users. 
The IntraGov Haryana Portal can be accessed over Haryana SWAN & NICNET at http://intrahcs.hry.nic.in/
 
Services on the Portal:
G2E Services: More than 2000 users have been created on LDAP server, which includes all the employees of Haryana Civil Secretariat, IAS and HCS officers of Haryana. Personnel services being provided include  access to  complete service book, GPF details, missing credits, loan payment details, salary slips, annual statement, and other payments.  It also provides facility to interact with external applications like library to see the books catalog and reserve the books if available. Grievances redressal system has also been integrated where one can lodge his/her grievances. Designated grievances officers may takes action on it and update the status.  Provision for displaying latest DD News, Message Board, Photo & thought of week has also been provided.  Information like Today's Birthdays & Superannuation in month, coming from personnel database is also displayed on the portal. Facility of Massaging services like instant messaging, email, shared calendar has been provided on the portal. Latest notifications, rules can be uploaded on the site.  User can also upload documents in his/her personal folder and share with any.
G2G Services:  Fifteen  G2G applications have been integrated with portal with single sign on. Administrative module has been provided to manage the roles and accessibility of the applications to the different types of users.  Briefs of different applications are given below.
The Centralized File Movement and Tracking Information System (CeFMaTIS)Â  is implemented in all the branches of Haryana Civil Secretariat. More than 1500 references received and dispatched from various branches daily. With the implementation of CeFMaTIS, movement and tracking of more than 4, 00,000 references have been monitored using this software since 1st January 2009. Now tracing any PUC is just a click away.
The computerization of the Record Room having approximately 1,25,000 historic files was completed and it was found that more than 55000 had outlived their life. Now each file in record room can be traced on click of button and with destruction of outlived record state has been able to save precious storage space. Training to the e-Champions of the Branches has been conducted so that they can help the assistants in maintaining their current files.
With the computerization of Accountant General, Haryana, the data pertaining to GPF subscription and loans & advances, Missing credits etc. of all the employees of Haryana State has been made accessible to individual employee through  secure authentication. UserId and PIN has been provided to all the 3.1 lacs employees of Haryana. This has helped the employees as well as the departments to take timely action, if there are any discrepancies.
IntraGov Haryana, with Integrated e-Office -  Facilitating  Core Government Functions
The computerization of library having more than 50000 books along with bar-coding and accounts of member has enabled the employee to see the current status of their account and they can search a book of their interest. Apart from this now the library staff also able to send the alert for overdue books and new arrivals in the library. This activity has been done by the library staff themselves.
Complete service book of more than 2000 Secretariat employees and Haryana Civil Services officers have been entered. Provision for every entry relating to service book like leave details, promotions, pay fixations, LTC, transfer order etc has been  made in the system. Concerned officers can update and make an entry as and when the event occur.  .
 Pay and bill Processing System has been implemented. Salary and others bills of more than 2000 employees are proceed through this system. Employees can see the status of various payments, salary slips, and annual salary statement.
Court Cases Monitoring System: Training and user/password has been provided to all the departments for using Court Cases Monitoring System.  More than 4500 Court Cases of 23 departments were uploaded on IntraGov Portal, it helps the administration to take timely action.
Employees Id- cards Issuance & Verification System has been developed and implemented. Various types of cards are issued by the secretariat for entering in building.  More than 6000 cards have been issued through this system so far. Administration has been provided interface to check the authenticity of the I Cards.
Contents & Document management System has also been provided in the portal. Interface with authentication has been provided to the concerned branches. More than 3000 acts, rules, offices order documents has been uploaded on the site. 
Other system which have been integrated are Web Enabled Vigilance Cases MIS (eVigil)  , Project Monitoring System for Chief Secretary(CSPMIS), Disciplinary Cases (Section 7 and 8) MIS , Online Grievances Redressal Information System , RTI- MIS with G2C Interface , e-Leave MIS for  IAS officers Leave records,  IAS/HCS Civil List MIS .
Looking Ahead 
The IntraGov System is designed in such a manner, that it can be replicated in other departments / State Governments with local customization according to their requirements. The process for packaging & documentation of IntraGov Haryana System is on for facilitating Horizontal Transfer.