Assam CM launches two more Transport Online Contactless Services
Kavita Barkakoty, Assam
asm-kavita[at]nic[dot]in
|
Oct 29, 2021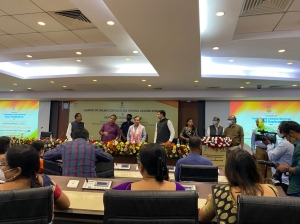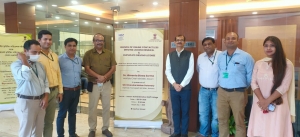 Guwahati, October 28, 2021: The Honble Chief Minister of Assam Shri Himanta Biswa Sarma today launched the online Contactless  Aadhaar-based  Duplicate Driving License and Renewal of Driving License (DL)  Applications for all the District Transport Offices (DTOs) of Assam except the five byepoll-bound districts of Jorhat, Sivasagar, Barpeta, Kokrajhar and Baksa. The launching was done in the presence of the Honble Assam Transport Minister Shri Chandra Mohan Patowary and senior officials of NIC and the Transport Department. Both the applications have been developed and are being technically implemented by NIC.

The launch of these applications will enable citizens with Aadhaar cards to apply online and get duplicate DLs and renew their DLs from anywhere, even from the comfort of their homes. In his inaugural speech, the Chief Minister lauded the role of NIC and the Transport Department in making the launch possible and said that such initiatives resulted in the saving of mandays and money while at the same time eliminating the role of middlemen and associated corruption.

He also cited the examples of two other NIC applications – Learner License from Home and MVahan which have been very well received by the citizenry of Assam. These four applications together will save about 3.5 lakh mandays, he said, reducing as many footfalls in the DTOs and allowing their utilization in other productive work.

The Chief Minister of Assam also declared that he intended to launch another 20 such applications by March 2022, and was confident that the Transport and NIC Team would be able to achieve the deadline.

In NIC, the success of todays launch was possible due the efforts of all the people who worked tirelessly an NIC Hyderabad, Bangalore, Delhi and Guwahati.