Honble Chief Minister, Himachal Pradesh launches HP State Food Commission Website
Ajay Singh Chahal, Himachal Pradesh
ajay[dot]chahal[at]nic[dot]in
|
Sep 10, 2021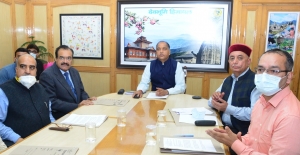 Sh. Jai Ram Thakur, Hon'ble Chief Minister, Himachal Pradesh launched the Himachal Pradesh Food Commission website on First September 2021 at Shimla. The Chairperson of the Commission, Dr. Surender Singh Ghongrokta, thanked hon'ble Chief Minister for launching the website and expressed hope that it will meet the expectations of citizens.
The website covers the general information about the Commission, its President and Members, Schemes, Acts and Rules, Notifications, Contact details etc. The idea is to make the citizens aware about the Food Security Act and provide them a mechanism to file complaints, if any. Presently, complaints can be sent by email to the Commission.  Himachal Pradesh Government has constituted the Food Commission under the Food Security Act 2013 with the objective to consider the complaints received under food security, nutrition, PDS, ICDS and other related issues. If the complainant is not satisfied with the District Grievance Redressal officer's orders, they may approach the State Food Commission for appeal.
Dr. R.N. Batta, Advisor to Chief Minister, Director Food and Supplies, Members of the Commission, SIO HP and Sh. Sanjay Sharma, STD NIC were present on the occasion.
The responsive website has been developed by NIC Himachal Pradesh and the content is  in Hindi language. The website is presently accessible at https://hpfoodcommission.nic.in