State level workshop on unified worker registration portal organized in Nava Raipur, Chhattisgarh
Y. V. Shreenivas Rao, Chattisgarh
yvsrao[at]nic[dot]in
|
Aug 28, 2021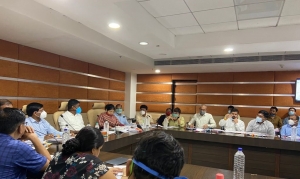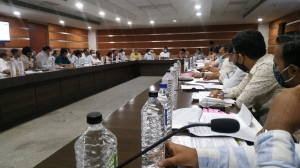 State-level workshop on Unified Worker Registration portal was organized by Labour Department, Govt. of Chhattisgarh on 18th Aug 2021 with technical support of NIC for smooth implementation of new IT initiatives by the department.
The workshop was chaired by Shri Alex Paul Menon (IAS),Labour Commissioner. The programme was attended by Labour Officers and Industrial Health & Safety Officers from the 27 districts.
After a brief introduction on the Unified Worker Registration portal, step by step workflow of the entire module was presented and online demonstration was given to the officials by Shri Satyesh K. Sharma, Technical Director accompanied by other NIC State Centre team members.
Labour Commissioner highlighted salient features of the newly launched  portal and insisted on  its extensive use  in   generating online labour profiles/cards.
Strategies for rollout of other new initiatives were also discussed, which includes maintaining migration register through door-to-door survey and village camps using the newly launched "ShramevJayate" mobile app with offline data capturing facilities.