Hon'ble Chief Minister Haryana, Shri Manohar Lal launched the Awas Portal (http://awas.haryanapwd.gov.in) on 02 August 2021
Deepak Sawant, Haryana
sawant[dot]deepak[at]nic[dot]in
|
Aug 5, 2021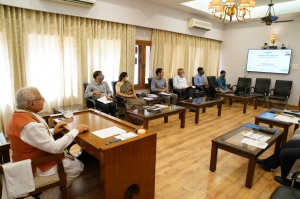 Hon'ble Chief Minister Haryana, Shri Manohar Lal launched the Awas Portal (http://awas.haryanapwd.gov.in) on 02 August 2021 to make the process of allotment of government accommodation to the employees more transparent.
The Awas portal has been designed and developed by NIC-Haryana. The employees can get government accommodation on the basis of their grade & seniority within the stipulated time without any recommendation after applying online on the Awas portal. With the launch of the portal, transparency, speedy allotment and better tracking of allocation is possible now. The portal is also integrated with HRMS (Human Resource Management System) application for employee's latest data. All the formalities of house allotment, house change etc. will be done online. The availability of vacant houses and the seniority list of online applications will also be available on the portal.
Shri Alok Nigam, Additional Chief Secretary, Public Works Department, Shri V Umashankar, Principal Secretary to Chief Minister, Smt. Ashima Brar, Deputy Principal Secretary to Chief Minister, Shri Deepak Bansal, DDG & SIO, NIC-Haryana, Shri Amit Kumar, Scientist-C and Shri Prakash Kala, Scientist-B were also present during the launch.