Hon'ble Chief Minister, Himachal Pradesh Launches HP Water Bills Mobile App
Ajay Singh Chahal, Himachal Pradesh
ajay[dot]chahal[at]nic[dot]in
|
Mar 27, 2021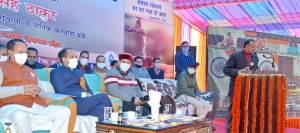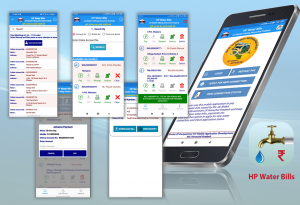 Sh. Jai Ram Thakur, Hon'ble Chief Minister, Himachal Pradesh launched the HP Water Bills mobile app on 22 March 2021, at Janjaheli, District Mandi, on the occasion of World Water day, in the presence of Hon'ble Jal Shakti Minister Sh. Mahender Singh. On this occasion, a presentation was given, by Sh. Sanjay Thakur, Technical Director from the software development team, from NIC, HP State Centre, Shimla, explaining the functionality of this mobile app. Hon'ble Chief Minister, Himachal Pradesh also interacted with the Panchayati Raj representatives and citizens of four panchayats belonging to different districts, via videoconferencing, regarding Jal Jeevan mission and took the feedback about the benefits, this mobile app will provide to the Citizens.
HP Water Bills app enables the citizens, to pay their water bills issued by the State Jal Shakti Department, from time to time as well as to pay the water bills amount in advance, using the e-Challan payment gateway of HP State Treasuries, Accounts and Lotteries Department. This app facilitates consumers, to get information readily about water bills and download it in order to keep record. Presently, out of 13.5 lakh consumers, about 9 lakh consumers will be able to use the services of this App for making water bill payments.
A Consumer can also make advance payment against a water bill account no., in case water bill is not generated. Water Bills and receipts in pdf format can also be downloaded. The citizens will also be able to apply for new water connections, using this mobile app. This application will be processed in online manner in the Works MIS web application, developed for this department, by National Informatics Centre, Himachal Pradesh. The Citizens will get the latest status of their online application, through this mobile app.
HP Water Bills mobile app has been developed by National Informatics Centre, Himachal Pradesh for Jal Shakti Department, GoHP. This mobile app has been developed for Android and Apple based smartphones and is available on the Google Play Store and Apple app Store. Sh. Sanjay Kumar, STD and Sh. Mangal Singh, SSA from NIC HP were also present on the occasion.