Haryana one day state level workshop on agmarknet
informatics, NIC-HQ
editor[dot]info[at]nic[dot]in
|
Apr 2, 2010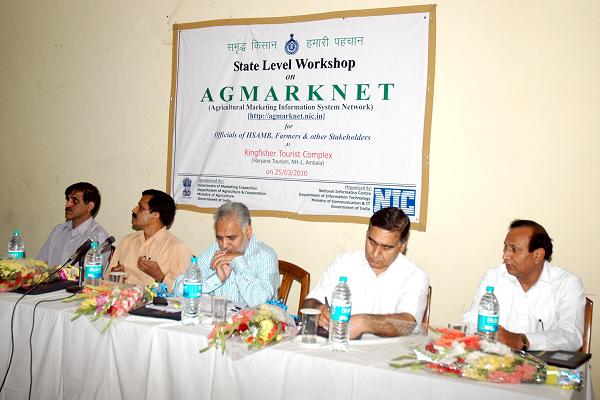 The AGMARKNET project in Haryana is being implemented at more than 150 locations of Mandies (purchase centres). The user department has been feeling requirement of another workshop on the project for sensitization of existing users base and awareness of new users. Consequently, a one day state level workshop was organized by NIC Haryana State unit on 25 March, 2010 at the Kingfisher Tourist Complex, NH 1, Ambala jointly with DMI (Directorate of Marketing Inspection),
The workshop was chaired by Dr. Avtar Singh, IAS, Chief Administrator, Haryana State Agriculture Marketing Board, and largely attended by the officers/officials of HSAMB, Market Committee's, Agriculture Department, Warehousing Corporation, HARSAC etc. The response to the workshop was overwhelming i.e. against planned capacity of 175 participants the workshop was attended by around 250 officials.
SIO, Haryana, delivered an integrated overview of entire National E-Governance Programme on Agriculture/Agmarknet sector. Sh. P.K. Suri, Technical Director, NIC Hq shared National level perspectives of AGMARKNET and Sh. Susheel Kumar, Technical Director, delivered on Haryana Perspective of Agmarknet. All these technical sessions were very informative which were liked and appreciated by all participants including the chief guest. Sh. Surjeet Singh, TD & DIO(Ambala), Sh. Harichand, PSA, Sh. Alok Srivastva, PSA, and Sh. AJS Walia , DIA Ambala, NIC Haryana coordinated the delivery of contents of the workshop. The DMI highly appreciated the content management and content delivery by NIC to the participants.