Assam CM launches NIC-developed eChallan and Virtual Court for Traffic
Kavita Barkakoty, Assam
asm-kavita[at]nic[dot]in
|
Nov 13, 2020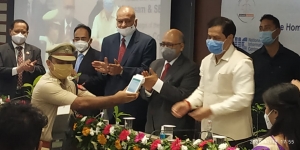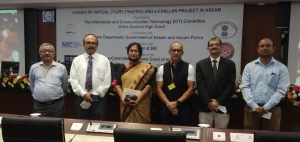 Guwahati, November 13, 2020: In a high profile function held in the Assam Administrative Staff College premises yesterday, the Hon'ble Chief Minister of Assam Shri Sarbananda Sonowal launched the NIC-developed eChallan and Virtual Courts online applications for the Assam Police and the Gauhati High Court respectively in the physical presence of the Hon'ble Justice of the Supreme Court Shri Hrishikesh Roy, the Hon'ble Chief Justice (Acting) of Assam Shri N Kotiswar Singh and his colleagues from the Gauhati High Court Justice Shri Manas Ranjan Pathak, Justice Shri Manojit Bhuyan and Justice Shri Suman Shyam, the Chief Secretary of Assam Shri Jishnu Baruah, IAS, the Director General of Police Shri Bhaskar Jyoti Mahanta, IPS, The Commissioner & Secretary, Home and Political Department, Assam, Shri GB Tripathi, IAS, the State Informatics Officer of the NIC Assam State Centre Smt Suchitra Pyarelal, along with many other dignitaries.
Also present through Video Conferencing were the Hon'ble Justice of the Supreme Court Shri Dhanajaya Y Chandradhud who is the Chairperson of the SC E-Committee, Secretary Department of Justice Shri Barun Mitra, IAS, and Director General NIC, Dr Neeta Verma. Justice Shri Chandrashud spoke at length on the ICT initiatives in the judicial sector of the Country and how NIC has been working shoulder to shoulder with them. The NIC Assam team comprising Senior Technical Directors Shri Diganta Barman, Shri Rubaiyat-ul Ali, Shri Sumitav Saikia and Technical Director Shri Bibhujjal Bhattacharjya were present on the occasion.
Assam is the first state in the eastern part of the Country to have implemented eChallan and Virtual Courts for Traffic. eChallan has now been launched only in the pilot police district of Kamrup Metro and will be replicated in the other districts of the State in two phases.
Speaking on the occasion, the Chief Minister lauded the initiative and said that it would bring in greater efficiency and transparency in line with the wishes of the Prime Minister of India. He congratulated the Gauhati High Court, the Assam State Government, the Assam Police and NIC Assam on the success. The Hon'ble Chief Justice of the Gauhati High Court appreciated the crucial role played by NIC in the success of the project; the Director General of Assam Police said that NIC along with other agencies worked very effectively to enable the launch within a very short time span.