Launch of CCTV-ITMS in Smart City Dharamshala, Kangra, Himachal Pradesh
Ajay Singh Chahal, Himachal Pradesh
ajay[dot]chahal[at]nic[dot]in
|
Nov 10, 2020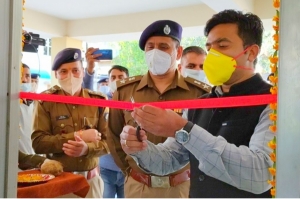 Sh. Rakesh Kumar Prajapati, IAS, Deputy Commissioner, Kangra launched the CCTV based Intelligent Traffic Management System (ITMS) at Dharamshala on 5th November 2020. NIC has developed ITMS, which is integrated with eChallan application of State Government. It has been implemented on pilot basis in Smart City Dharamshala, District Kangra Himachal Pradesh. ITMS plays a key role in shaping the city traffic to the next level by reducing traffic violation.  This system will eliminate the need for physical deployment of law enforcement officers on the road and will work on 24x7 basis. Sh. Vimukt Ranjan, SP Kangra is the brain hehind this initiative.
ITMS covers Over Speed Violation Detection System (OSVD),  Automatic Number Plate Recognition (ANPR) System, No Helmet Detection System (NHDS) and  Triple Riding and various other traffic violations in real-time.  ITMS plays a key role in shaping the city traffic to the next level by reducing traffic violations.  ITMS is using  artificial intelligence to manage traffic and nab motorist flouting traffic rules including bikers travelling without helmet.
The online facility is integrated with HimKosh and enables citizens  for making online payment for compunding the eChallan.  The facility of SMS has been integrated into this system which gives status of delivery of SMS to the authority, for further appropirate action.
District Administration has appreciated the efforts made by NIC in implementation of this project. Once it is sucessfully implemented, more locations in Dharamshala Town, other Sub Divisions and other Districts of HP will be taken up. Sh. Bhupinder Pathak, DIO Kangra and Project Coordinator, with his team, provided the requisite support in its customization and implementation.