CM, Assam launches Kisan Rath (Fruits & Vegetables) Mobile App
Kavita Barkakoty, Assam
asm-kavita[at]nic[dot]in
|
Oct 7, 2020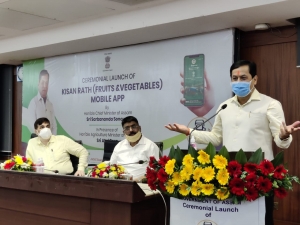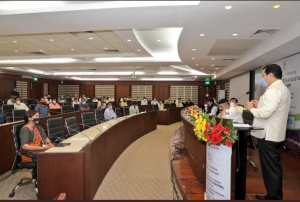 The Hon'ble Chief Minister of Assam Shri Sarbananda Sonowal launched the National Informatics Centre (NIC) developed Kisan Rath App on 6th October, 2020 for Assam. The App comes as a boon to growers of perishable fruits and vegetable in the State. It will facilitate timely selling of their produce leading to radical reduction in wastage due to lack of adequate storage infrastructure and buyer-seller networking. The App achieves this by interconnecting online more than 10,000 farmers, 50 farmer producer organizations, 1,000 verified agricultural traders and 50 verified agricultural traders to start with, in a well-knit transparent community, effectively eliminating the adverse role of middlemen and ensuring appropriate price for products. 
The app was developed by NIC HQ under the leadership of Dr. Ranjna Nagpal, DDG and initially released by the Government of India in April, 2020. The app was customized for Assam along with Assamese content under the guidance of Ms. Mala Mittal, STD & HoD and Sh M. A. Ali, STD to suit the requirements of Assam. There have been series of training to the officials of APART and officials of entire 33 Districts of Assam where team from NIC HQ, NIC Hyderabad and NIC Assam actively provided support. Under the aegis of the Central Government, the App provides the added advantage of enabling farmers to take advantage of all relevant schemes and opens up the national market outside the state for surplus products.
Developed, designed and technically maintained by NIC, the App will be implemented on the ground by the Assam Agribusiness and Rural Transformation (APART) project who will provide training to farmers and other stakeholders on using the App. The App can be run in Assamese, Hindi, English and other Indian Languages.